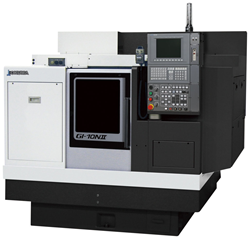 CHARLOTTE, N.C. (PRWEB) February 11, 2015
Okuma's GI-10NII is equipped with extremely rigid, high-speed grinding wheel spindles that produce high performance production in automated environments. Capable of simultaneous two-axis control, this model is extremely flexible in handling a variety of workpiece shapes in a simple data setting.
Centralized control of lubricating and pneumatic devices allows for easy maintenance, while simplified programming and the program help function allow for easy operation.
Equipped with features that enhance the automation process, this CNC grinding machine is capable of simultaneous dressing and loading, fixed workhead construction, and greater X-axis travel to provide additional space for workpiece loading/unloading.
Key Features of the GI-10NII

6" max grinding ID
NC high-speed oscillation for higher stock removal rates
5-surface hydrostatic guideway system (Z-axis)
High rigidity for powerful grinding
Standard Hi-G control
High-speed loader at a rapid traverse of 180 m/min
Variety of loader patterns for easy automation
For more information on Okuma's GI-10NII visit http://www.okuma.com/gi-10nii.
About Okuma America Corporation:
Okuma America Corporation is the U.S.-based sales and service affiliate of Okuma Corporation, a world leader in CNC (computer numeric control) machine tools, founded in 1898 in Nagoya, Japan. The company is the industry's only single-source provider, with the CNC machine, drive, motors, encoders, spindle and CNC control all manufactured by Okuma. Okuma's innovative and reliable technology, paired with comprehensive, localized service protection, allows users to run continuously with confidence – maximizing profitability. Along with its industry-leading distribution network (largest in the Americas), and Partners in THINC, Okuma facilitates quality, productivity and efficiency, empowering the customer and enabling competitive advantage in today's demanding manufacturing environment. For more information, visit http://www.okuma.com or follow us on Facebook or Twitter @OkumaAmerica.
###