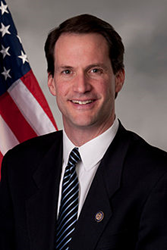 Our 15th Anniversary Gala and Youth Achievement Awards highlight that children with learning disabilities and ADHD are often very talented.
Westport, CT (PRWEB) February 11, 2015
Smart Kids with Learning Disabilities will hold its 15th Anniversary Benefit Gala, HELPING KIDS ROCK Their Potential, at 6:30 pm, Saturday, March 7 at the Stamford Marriott. Congressman Jim Himes will be the Master of Ceremonies.
At this year's Gala, Smart Kids with LD will honor David Flink, the Co-Founder and CEO of Eye to Eye, and author of Thinking Differently, with its inaugural "Be the Difference" Award. Beth Sugerman, Head, Winston Preparatory School in Norwalk, will receive the Community Service Award.
The Fred J. Epstein Youth Achievement Awards will also be presented to student winners, hailing from across the United States and Canada. The major award is for $1,000.
The Youth Achievement Awards recognize the strengths and accomplishments of a group of young people with learning disabilities, despite their struggles in school, reports Jane Ross, Executive Director of Smart Kids with LD.
"As a society, we often equate reading and doing well in school with intelligence, and are too quick to focus on a child's weaknesses, as he struggles with reading, writing, attention and social issues," said Jane Ross, Executive Director. "Our Awards recognize that children with learning disabilities and ADHD are often very talented, and may demonstrate notable accomplishments in many areas despite their difficulties."
The evening's Gala will feature a cocktail reception, dinner, silent and live auctions, including a wine auction, with dancing to the rock band, Dr. Rick Garvey &The Scrubs, joined by Richie Scarlet following his tour with Ace Frehley, former lead guitarist of KISS.
Auction items include:

Ten Days at a Summer Beach House on the Greek island of Corfu for a party of ten.
Four Nights at Villa Montane, a Three-Bedroom Condo at the Beaver Creek Ski-Resort in Colorado for a party of ten.
Masterpiece Oil Portrait on Canvas by Kramer Portraits for up to eight people.
Sunset Champagne Cruise from Greenwich with overnight stay at Greenwich Delamar Hotel.
Invitation for Two for Frank Stella Retrospective Opening at new Whitney Museum, including a signed copy of the Show Catalogue.
Class for Kids by MakerBot 3D, to be held at the company's store in Greenwich.
Personal Tour of U.S. Capitol with Congressman Jim Himes, plus a U.S. flag flown over the Capitol Building.
During the cocktail reception, three displays will be on view: An Art Show, featuring the work of students with LD/ADHD; Materials on the winners of the Fred J. Epstein Youth Achievement Award; and MakerBot 3D Printing Demos, featuring items by students at Eagle Hill School in Southport.
Gala tickets at $200, $250 and $500 are available at the Smart Kids with LD website.
The Pinnacle Sponsor for the Benefit Gala is Lindamood-Bell Learning Processes of Darien, CT. The Southfield Center for Development is the Lead Sponsor. Other sponsors are Literacy How, Eagle Hill Greenwich, Eagle Hill Southport, Winston Preparatory School, Norwalk, CT, Gen Re, Marc Hoffman – LD Advocate, and The Soifer Center for Learning and Child Development.
About Smart Kids with Learning Disabilities, Inc.
Smart Kids with Learning Disabilities, Inc. is a Westport-based nonprofit organization dedicated to empowering the parents of children with learning disabilities (LD) and attention deficit disorders (ADHD) via its educational programs, award-winning website and blog, and free e-newsletter at http://www.SmartKidswithLD.org. The organization also educates the public about these children's gifts and talents. Connecticut Governor Dannel Malloy is an Honorary Board member and Henry Winkler, Golden Globe award-winning actor, director and author, serves as the organization's Honorary Chairman.
For more information, visit http://www.SmartKidswithLD.org.