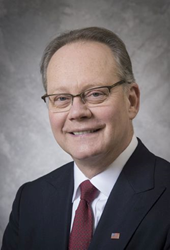 I'm looking forward to working with my new colleagues at Chamberlain Hrdlicka, and I'm pleased to be able to put my particular insight and skills to work.
Philadelphia, PA (PRWEB) February 16, 2015
National law firm Chamberlain, Hrdlicka, White, Williams & Aughtry announced today the addition of attorney James J. Eisenhower to its Philadelphia office in an Of Counsel capacity.
Eisenhower, who has been active in government and politics, focuses his practice on government and regulatory matters, as well as white collar crime. He also is deeply knowledgeable about civil rights matters, insurance fraud, political corruption, and international criminal law.
"We are excited to welcome Jim to Chamberlain Hrdlicka," said Philip Karter, shareholder in the Philadelphia office. "He has a unique skillset that will be a great asset to our clients, whether located here in Philadelphia, elsewhere in the Commonwealth of Pennsylvania, or around the country."
Prior to joining Chamberlain Hrdlicka, Eisenhower was a partner in the Philadelphia office of Schnader Harrison Segal & Lewis LLP, where he was chair of the Government and Regulatory Affairs Practice Group, co-chair of the White Collar Crime Practice Group, co-chair of the firm's political action committee, and a member of the Appellate Practice Group.
"I'm looking forward to working with my new colleagues at Chamberlain Hrdlicka, and I'm pleased to be able to put my particular insight and skills to work," said Eisenhower.
Eisenhower has represented public officials in federal and state ethics investigations, advised clients in federal, state and local campaign finance matters, represented a national financial institution in Philadelphia and Pennsylvania regulatory matters and has represented the Pennsylvania Gaming Control Board in the revocation of a casino license resulting in $50 million dollars in forfeiture to the Commonwealth.
A distant relative of former President Dwight Eisenhower, Eisenhower was the 2000 and 2004 Democratic nominee for Attorney General of Pennsylvania. He chaired the Pennsylvania Commission on Crime and Delinquency, the Commonwealth's largest criminal justice agency, from 2003 to 2004. In 2005, former Gov. Ed Rendell appointed Eisenhower to the Pennsylvania Intergovernmental Cooperation Authority (PICA), which oversees Philadelphia's budget, and he served as board chairman from 2007 to 2011. At the federal level, he served as Director of the Office of Global Affairs, National Security Council, during the Clinton administration, when he served on the staff of National Security Advisor Anthony Lake.
After graduating from Temple University with a degree in political science in 1979, Eisenhower went on to earn his J.D. at the Antioch University School of Law (now the David A. Clarke School of Law in Washington, D.C.). He then went abroad, completing a master's degree in Philosophy at Oxford University in the United Kingdom, where he was a Marshall Scholar and published his thesis, Police Interrogation and the Rule of Law in Northern Ireland.
Eisenhower was a federal criminal prosecutor in the U.S. Department of Justice's Civil Rights Division, and an Assistant United States Attorney in the Eastern District of Pennsylvania, before entering private practice. He was a partner at Montgomery, McCracken, Walker & Rhoads until 2002, when he joined Ballard Spahr as a partner in the litigation department.
To learn more or to connect with Eisenhower, please visit the Chamberlain Hrdlicka website at http://www.chamberlainlaw.com.
About Chamberlain Hrdlicka – Chamberlain Hrdlicka is a diversified business law firm with offices in Houston, Atlanta, Philadelphia, Denver and San Antonio. The firm represents both public and private companies as well as individuals and family-owned businesses across the nation. In addition to its nationally recognized tax planning and tax controversy practice, the firm represents clients in appellate law, bankruptcy, restructuring, reorganization and creditor rights, construction law, corporate, securities & finance, employee benefits and executive compensation, employment law, energy and maritime, government and regulatory matters , immigration, insurance, intellectual property, international, labor and employment litigation, real estate and white collar criminal defense.