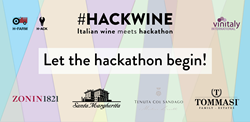 I am convinced that H-ack can prove the fact that even a traditional sector such as the wine sector can benefit from the enormous potential offered by the Net to rejuvenate and modernize its communication models
Roncade, Italy (PRWEB) February 12, 2015
Vinitaly's famous pay off line is "Another Love Story in Verona" but Vinitaly International plans to celebrate its Valentine's Day at H-Farm, located near Venice, this upcoming weekend with a group of hackers and four Italian Wine Producers, Santa Margherita, Tenuta Col Sandago – Case Bianche, Tommasi and Zonin1821. "I cannot think of a better reason to embrace 'bollicine' and introduce the second edition of H-ack Wine, a collaboration between H-Farm and Vinitaly Interntational. I think it promises to be just as exciting as the first edition," claims Stevie Kim, the lead of this initiative, Managing Director of Vinitaly International.
As 400 young developers, designers and marketing specialists prepare to team up in various ad-hoc group formations for a true 24-hour hackathon with the aim of finding innovative digital solutions to meet the needs of the four challenges launched by the winemakers, the top executives of each company expressed their thoughts with regards to the rhyme and reason to their participation:
"To take part in H-ack wine will not only be a challenge for the young hackers but also for us," explains Dario Tommasi, the owner of Tommasi winery. "Ours is a family run business and tradition is our benchmark. But we have always also looked to the future and to new generations. We are very curious to meet these young professionals. They will be able to show us a new and more creative approach to the world of wine and make it progressively more simple and amusing. Wine is conviviality, family and passion. We expect these young hackers to be able to express these themes in the best possible way through innovative and stimulating projects."
Ettore Nicoletto, CEO of Gruppo Vinicolo Santa Margherita also shares the same belief that a different generation from the one that leads the wine industry today, can offer a new, different, and fresh approach to the communication of Italian wine: "They can help us understand what final consumers and wine lovers seek for on new media channels and how to present and promote our wine using the appropriate tools. At H-ack Wine we expect to be astonished and come across many out-of-the-box ideas. The world of Italian wine has to deal, as many other sectors, with the evolution of new communication systems with a global outreach. Moreover, we are also having to face a generational turnover: the new generation approaches wine using new media channels, and by sharing they spread information and acquire knowledge. In this scenario, traditional communication channels run the risk of becoming marginal and incapable of informing their consumers adequately. It would be, therefore, paradoxical – especially for a winery like Santa Margherita, which is present in over 80 markets and exports 70% of its production – not to be able to communicate with them in the best possible way through their favourite media channels."
Fabrizio Zanetti, the CEO of the group that includes Hausbrandt coffee, the brewing company Theresianer and the winery Tenuta Col Sandago speaks of the winery's participation to this second edition of H-ack Wine: "Innovation means keeping up with the change, being able to evolve ourselves: this for our companies has always been the theme that has distinguished us. The group includes Hausbrandt coffee, the brewing company Theresianer and the winery Tenuta Col Sandago. We decided to participate to H-Ack Wine to keep faith with our spirit, the soul that drives us to be curious and always helps us to be always updated towards our customers. Tenuta Col Sandago is one of the oldest wineries in the DOCG area of Conegliano Valdobbiadene, the first to believe in agricultural jewels like "Passito di Prosecco" or "Wildbacher". With H-Ack Wine we want to continue to innovate and let our customers dream with our products."
Riccardo Donadon, founder of H-FARM, also added his voice to the enthusiastic chorus:
"I am really proud that Vinitaly International has decided to collaborate with us for this second edition of H-ack Wine. To be able to count on their experience and their support makes me hope that this new hackathon will represent a great opportunity. I am convinced that H-ack can prove the fact that even a traditional sector such as the wine sector can benefit from the enormous potential offered by the Net to rejuvenate and modernize its communication models."
Vinitaly International was also among the challenging brands last year momentarily shifting its international focus on the local wine market in view of the alarming decrease in wine consumption of these past years, especially among the new generation. The aim was to find a tool that would help give wine and the consumption of wine an image that is young, modern, trendy and sexy rather than old or outdated. The winning team, Wineein, was also the only one to move on and participate in the intensive accelerated program of H-FARM. Today they are getting ready to give life to their own enterprise and to launch Drinkout, the fully developed version of the original project, on Apple Store during this edition of H-ack Wine.
With this second edition, the Ambassador of Italian Wine will be drawing the attention once again on the importance of communication in view of the strong need felt by Italian wineries to export their produce in up-and-coming markets such as China: a gold rush that often is confronted by communication problems determined, on the one hand by language differences and on the other by a lack of knowledge of Italian wine in general. Cultural differences also call for the use of different communication channels, such as Weibo and Wechat in China.
About:
Veronafiere is the leading organizer of trade shows in Italy including Vinitaly (http://www.vinitaly.com), the largest wine event in the world. The 47th edition of Vinitaly counted some 148,000 visitors (+6%), of which 53.000 were international attendees (+10%) visiting from 120 countries. On 95.000 square meters, 4.200 exhibitors welcomed trade professionals, media and producers alike. The next installment of the fair will take place on 6th- 9th April 2014. The premier event to Vinitaly, OperaWine (http://www.vinitalyinternational.com) "Finest Italian Wines: 100 Great Producers", will unite international wine professionals on April 5th 2014 in the heart of Verona. Veronafiere also created Vinitaly International in 1998 to develop a global platform for the promotion of companies in the Italian wine and food sectors.
H-FARM is a digital platform created with the intention of helping young entrepreneurs in breaking the mold by launching initiatives based on original business models in the Internet sector and to sustain the transformation of Italian companies in a digital perspective.
The business accelerator model takes an average of 36 months, during which H-FARM invests in and supports the startup growth process. H-FARM is based in the Ca' Tron farming estate (just in front of Venice lagoon), Seattle (USA), Mumbai (India) and London (UK).
In the first nine years, H-FARM has invested approximately € 15.4 million in 54 innovative companies, creating over 350 new jobs. The aggregate turnover of H-FARM companies exceeds € 30 million. Between 2014 and 2018 they plan to invest a further €10 million.
###