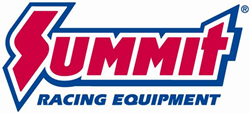 Tallmadge, OH (PRWEB) February 13, 2015
EJ and Amy Fitzgerald of Cool Hand Customs took a tired six-cylinder '57 Bel-Air fordor and turned it into a mild street machine cool enough to run on the 2014 Hot Rod Power Tour. Summit Racing now offers Cool Hand Customs 1957 Chevy Parts Combos that enthusiasts can use as a starting point for any 1957 Chevy project.
Engine Combo
Under the hood of the '57 is a 235 cubic inch "Stovebolt" six hopped up with a Fenton intake manifold and two Uremco Rochester one-barrel carburetors. The A1 Cardone distributor was upgraded with a Pertonix Ignitor II electronic conversion and a Flame Thrower coil for extra spark. A shiny Trans-Dapt chrome valve cover and side cover brightens things up.
Chevy Chassis Combo
The Chevy needed some help in the handling and altitude department. A set of KYB Excel-G shocks, Summit Racing front coil springs, and a Helwig front sway bar took care of that. The factory manual drum brakes were updated with a Right Stuff Detailing front disc brake conversion and upgraded rear drums. Out back is a brand new Tanks Inc. OE replacement fuel tank to replace the rusted-out stock one.
Trim Combo
Surprise, surprise—Summit Racing carries a good selection of trim pieces for 1957 Chevys. EJ and Amy went with Trim Parts outer door handles and hood bar extensions, plus interior door handles, window cranks, and vent window handles from OER.
Completer Combo
There are always bits, bobs, and trinkets needed to complete a project. For example, EJ and Amy needed an exhaust system, so they fabbed one from a Flowmaster U-Fit exhaust kit and Hushpower II mufflers. They wanted tunes for the Power Tour, so they installed a Retrosound Zuma radio and speakers. Then there were things like carpet, radiator and heater hose, a fuel sending unit, an oil filter relocation kit—even a fuel filter and fuel filler cap.
See build photos of Cool Hand Customs 1957 Chevy here.
Summit Racing Equipment
http://www.SummitRacing.com
1-800-230-3030