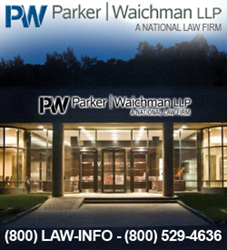 Juries are clearly understanding the cases and finding fault on behalf of the company despite Takeda's claims that plaintiffs' lifestyles, not the drug maker's behaviors, are to blame for serious illnesses and deaths
Port Washington, New York (PRWEB) February 13, 2015
Parker Waichman LLP, a national law firm that has that is actively involved in Actos litigation and which has long been dedicated to protecting the rights of victims who have been injured by drugs and medical devices, is pleased with a recent jury verdict involving Actos. The Firm provides commentary on a recent jury decision ordering Takeda Pharmaceutical Co., to pay $2.3 million in a case involving Takeda Pharmaceuticals Inc.'s diabetes medication, Actos (pioglitazone). The Philadelphia jury found that Actos had been a significant cause of the plaintiff's bladder cancer and that his physician was not appropriately warned about the drug's risks. The Pennsylvania case is Kristufek v. Takeda Pharmaceuticals America Inc., Philadelphia Court of Common Pleas and the consolidated Actos case in Louisiana is In Re Actos (Pioglitazone) Products Liability Litigation, 11-md-02299, U.S. District Court, Western District of Louisiana (Lafayette).
In this case, the plaintiff, a retired 74-year-old teacher from Slippery Rock, Pennsylvania, underwent surgery to remove his bladder due to his cancer diagnosis following treatment with Actos, according to the lawsuit.
More than 3,500 lawsuits have been brought over Actos and have been consolidated before U.S. District Judge Rebecca Doherty in Lafayette, Louisiana, for pretrial discovery in the consolidated litigation, court dockets indicate. Another 4,500 cases have been filed in various state courts in Illinois, West Virginia, California, and Pennsylvania, according to court records.
"The Pennsylvania jury is yet another jury to find liability against Takeda for cases involving claims that Actos caused the plaintiff to develop bladder cancer," said Matthew J. McCauley, Senior Litigation Counsel for Parker Waichman LLP.
Parker Waichman LLP is actively involved in the Actos litigation and has filed lawsuits on behalf of numerous individuals who developed bladder cancer, allegedly due to taking Actos. In fact, Parker Waichman LLP has maintained a leadership role throughout the Actos litigation, with Jerrold S. Parker, founding partner of the law firm, serving on the Plaintiffs' Steering Committee.
In a recent case, a Philadelphia jury awarded $2 million in damages noting that Actos was a contributing factor in the plaintiff's bladder cancer and that Takeda neglected to sufficiently warn physicians concerning risks associated with Actos. At the time, Mr. McCauley said, "The Pennsylvania jury is the fourth jury to find liability against Takeda for cases involving claims that Actos caused the plaintiff to develop bladder cancer. The case is Frances Wisniewski v. Takeda Pharmaceuticals America Inc. et al., case number 120702272, in the Philadelphia County Court of Common Pleas.
Prior to that, in Cooper v. Takeda Pharmaceuticals America Inc., Case Number CGC-12-518535, Superior Court of the State of California, County of Los Angeles, plaintiffs were awarded $6.5 million by a California jury in the first Actos bladder cancer lawsuit to reach trial. The case was heard before the thousands of others filed due to the man's grave condition and led to a compensatory damage award that included $5 million to the man and $1.5 million to his wife over loss of consortium.
A Maryland jury also found for the plaintiff, awarding $1.8 million in another Actos bladder cancer lawsuit. Under that state's Negligence Doctrine, if the plaintiff had potentially contributed to his/her death, damage awards are barred under the contributory award. The man's family alleged that Actos led to his bladder cancer death and the jury found that Takeda was liable for his death; however due to is so-called "contributory negligence"—he was a smoker—Takeda was not found liable. The case is An, et al. v. Takeda, Case Number 24-C12003565, Circuit Court for the City of Baltimore.
In the largest verdict, to date, a Louisiana jury found that Takeda must pay the plaintiff $9 billion in damages to a couple in a bellwether trial. The award was the first federal jury decision in a multidistrict litigation (MDL) against Takeda and its United States-based marketing collaborator, Eli Lilly. Takeda was found liable for $6 billion; Eli Lilly, for $3 billion. Actual damages of $1.5 million to the couple will be split by the drug makers. Takeda was accused of keeping the results of clinical studies secret since before the drug received U.S. Food and Drug Administration (FDA) approval. The case is Allen et al. v. Takeda Pharmaceutical Co. Ltd. et al., case number 6:12-cv-00064; and the MDL is In re: Actos (Pioglitazone) Products Liability Litigation, case number 6:11-md-02299, both in the U.S. District Court for the Western District of Louisiana. The settlement represents the seventh-largest jury award in United States history.
"Juries are clearly understanding the cases and finding fault on behalf of the company despite Takeda's claims that plaintiffs' lifestyles, not the drug maker's behaviors, are to blame for serious illnesses and deaths," Mr. McCauley, who oversees the firm's Actos cases, which are part of the broader litigation, pointed out.
Parker Waichman continues to offer free legal consultations to victims who suffered bladder cancer after using Actos. If you or a loved one were diagnosed with bladder cancer after taking Actos, please contact the firm by visiting http://www.yourlawyer.com. Free case evaluations are also available by calling 1-800-LAW-INFO (1-800-529-4636).