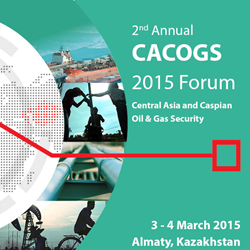 It's an IRN Summit
London, UK (PRWEB UK) 15 February 2015
Exclusive interview for 2nd CACOGS Forum to be held by IRN, 3rd-4th March, Ritz Carlton, Almaty
G4S has been working since 1997 in Kazakhstan with a number of prominent international oil companies in helping them to secure their assets by providing them with manned guarding of their exploration, production and transportation facilities. The General Manager of G4S Kazakhstan will be sharing his insights at the 2nd CACOGS Forum (Central Asia & Caspian Oil & Gas Security) on how the company prevented incidents while guarding numerous oil operations, one of which was a 600km pipeline network.
IRN interviewed him for some pre-forum insights.
IRN: "Based on your experience in Kazakhstan, what are the most current pressing threats/security issues for the local oil and gas industry?"
General Manager, G4S Kazakhstan: "As our specialisation is manned guarding, we often come across criminal groups' attempts to acquire assets illegally, including but not limited to oil or oil products. O&G sector is a lucrative piece for those criminal elements. Take a pipeline as an example, its length is massive and it runs through areas, which are often not populated steppe. It takes 40 to 50 min to cut through a pipe to pump oil, hence, manned guarding is a vital element in elimination assets theft and damage; it should always accompany technology to achieve maximum result."
IRN: "What is the number of O&G assets G4S currently secures in Kazakhstan?"
General Manager, G4S Kazakhstan: "We have a long history of strong relationships in the oil and gas sector, we ended 2014 with around 30 large and medium size customers—an increase of 50% over the past four years. The assets we secure are different elements of the O&G value chain. We have strong presence in oil fields including off shore, have a successful experience in securing pipeline of over 600 km long and we are also in refineries. We are among those few in the private security market who really understand and are capable to address the sector threats and needs."
IRN: "What is the number of incidents that you had during 2014 while guarding vital energy infrastructure and how many of them have been prevented?"
General Manager, G4S Kazakhstan: "You will always have different types of incidents; some of them will relate to discipline others to H&S and of course, there are those that have a quick direct impact to the financial losses. In 2014 we saw an increase in the number of attempts to illegally acquire our customers' assets. Through the year we identified and prevented around 900 cases of thefts, which in financial terms was around USD 600K. We have been guarding the pipe which I mentioned previously for the last three years, and there were 3 attempts to cut through the pipe which we successfully prevented."
IRN: "You have chosen to become the Gold Sponsor of the CACOGS 2015 Forum, what made you consider it was an important initiative?"
General Manager, G4S Kazakhstan: "O&G sector is one of the most important sectors in the country. It is also an area of our key expertise achieved through all those relationships we have been having with the key private players since 1997. This forum is a chance for us to share what we can but also to listen in order to better understand the bigger picture. The landscape is changing and we want to be able to contribute and better adjust for the change."
Covering all issues that raise security concerns, the CACOGS Forum will facilitate discussions on oil theft, maritime security in the Caspian Sea, cyber-attacks, pipeline security, the growing threat of terrorism, labour relations and others key areas. Implications and solutions, future threats and prevention will form the focus of this senior level meeting.
More information can be found on the website http://www.caoilgassecurity.com.