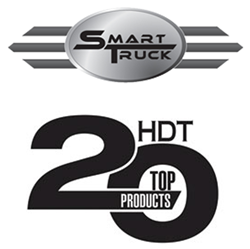 We are thrilled to receive the recognition of the industry for our TopKit product through this highly significant award. -Steve Ingham, CEO
GREENVILLE, S.C. (PRWEB) February 17, 2015
SmartTruck Systems' TopKit Fairing System, an innovative approach to aerodynamically improving fuel mileage, has been named a Top 20 product for 2015 by Heavy Duty Trucking Media (HDT), it was announced today. The TopKit is designed to directly reduce the low pressure wake that creates drag behind all dry van trailers, refrigerated trailers and straight trucks. The result is less drag and 5.5% fuel savings. The TopKit is EPA SmartWay® Verified and C.A.R.B. compliant.
The HDT Top 20 Award was presented to Stephen S. Ingham, Jr., SmartTruck System's CEO, at the 2015 American Trucking Association's Technology & Maintenance Council Annual Meeting in Nashville, TN. "We are thrilled to receive the recognition of the industry for our TopKit product through this highly significant award," Ingham said. "We want to thank HDT for choosing to spotlight our TopKit's unique value proposition and proven performance in reducing fuel consumption."
SmartTruck's TopKit can act as a stand-alone aerodynamic solution or be a powerful addition to an existing product to further enhance fuel economy. Available for dry van trailers, reefers and straight trucks, the system offers owner operators as well as fleets a fuel-saving solution without the ongoing maintenance and inspection challenges of other products.
About the HDT Awards:
This year's "Best of the Best" new products for 2015 were selected from hundreds of products and services introduced in the pages of HDT and/or on Truckinginfo.com. The winners were chosen by HDT's editors, selected past HDT Truck Fleet Innovators, and a panel of five veteran fleet maintenance professionals from the ATA's Technology & Maintenance Council.
About SmartTruck Systems:
Building on its aerodynamic background in the aerospace, motorsports and automotive industries, SmartTruck is bringing the next generation of aerodynamic products to the trucking industry. SmartTruck is headquartered in Greenville, S.C. For more information, visit the http://www.smarttrucksystems.com