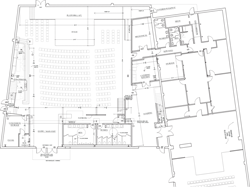 Fairfield, CT (PRWEB) February 13, 2015
The Fairfield Theatre Company (FTC) recently announced plans to build an exciting new performing arts venue at their current location in downtown Fairfield, CT. The new facility will be called The Warehouse at FTC and will have a capacity of 640 patrons. The Warehouse at FTC will complement FTC's current performance space, the award-winning 225-seat StageOne Theatre. FTC has recently launched a $1.5 million capital campaign to fund the project.
The Warehouse at FTC, which will retain its early mid-century industrial look and feel, will include state-of-the-art sound and lighting systems, a second-floor mezzanine and flexible seating to host a wide variety of shows and events. In addition to live music concerts, FTC will leverage the space to present theatre, film, cultural events, fundraising galas, business expos and fairs, corporate events and private parties. FTC anticipates that the larger venue and broader programming will attract many more arts patrons from all over the region.
"The Warehouse at FTC is a game-changer both for FTC and for the town of Fairfield," said FTC Executive Director John Reid. "StageOne is our crown jewel and we will continue to use it as much as ever. It's a fantastic facility and well loved by our artists and patrons, but it has significant limitations in terms of size and programming options. The new venue will allow us to introduce a whole new universe of world-class artists and productions to the area. This will, in turn, bring even more people to downtown Fairfield and act as a significant economic engine for the many local restaurants and shops that surround us."
First Selectman Mike Tetreau said, "I am so thrilled that FTC, which is situated in the heart of our thriving downtown, had the vision to expand their site to attract even more arts and culture to our town and region. This innovative performing arts venue will also increase economic opportunities that will help Fairfield's tax base. I wish FTC continued success and thank them for bringing so much vitality and enjoyment to residents and visitors alike."
FTC has launched a $1.5 million capital campaign to fund the warehouse project. They have already raised 60 percent of the funding through large, individual contributions from a Founders Circle donor group, financial support and matching grants, corporate donors and foundations, funding from the state of Connecticut and support from patrons and the general public via an online crowd funding campaign.
"We are well on our way, but we need the support of the entire community," said Reid. "We believe that FTC has had a significant positive impact on the Fairfield community and the local economy. We trust that our neighbors, the local residents and businesses in Fairfield will agree that this is a transformational opportunity for the town and that they will continue to support our efforts to make it a reality."
About the company:
Fairfield Theatre Company is a highly-acclaimed non-profit performing arts organization located in the heart of downtown Fairfield, Connecticut. FTC presents nearly 250 performances and concerts each year featuring outstanding national talent on FTC's StageOne in Fairfield, The Klein Auditorium in Bridgeport, and the Norwalk Concert Hall in Norwalk. FTC's intimate 200-seat StageOne concert venue is widely recognized as being one of the best places to see a live performance in the region. FTC is dedicated to providing the highest-quality arts, live entertainment and educational experiences to the communities it serves.