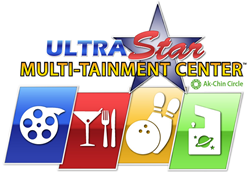 The Oscars represent the best in entertainment and our UltraStar team is excited to bring a bit of Hollywood right here to the Valley, it promises to be an evening full of fun, excitement, giveaways and delicious food.
Maricopa, AZ (PRWEB) February 17, 2015
The UltraStar Multi-tainment Center at Ak-Chin Circle will host a Hollywood style viewing party featuring a LIVE broadcast of Hollywood's Biggest Award Show on Sunday, February 22nd, starting at 4:30pm. Admission is free for all ages or can be upgraded (for those 21 and over) for a VIP experience for $15 which entitles ticketholder to an appetizer buffet reception, unlimited popcorn and soda, glass of champagne, a movie swag raffle ticket, one nominee ballot for a chance to win movie tickets for one year – (2 movie tickets per month for a year). Raffle tickets will be on sale for $1 which enters the ticketholder into the drawing for movie swag that will be given out during commercial breaks.
Attendees are invited to come dressed to impress or come casual. UltraStar cast members will be "dressed up" for the big event and guests can feel as if they stepped right into the audience in Hollywood.
"We are excited to bring back the party this year to the Ak-Chin Indian Community. UltraStar Cinemas has a long tradition of celebrating Hollywood's Biggest Night in style", said Adam Saks, COO of UltraStar Cinemas. "The Oscars represent the best in entertainment and our UltraStar team is excited to bring a bit of Hollywood right here to the Valley, it promises to be an evening full of fun, excitement, giveaways and delicious food."
About UltraStar Multi-tainment Center at Ak-Chin Circle:
The UltraStar Multi-tainment Center at Ak-Chin Circle, an enterprise of the Ak-Chin Indian Community, is operated by California-based UltraStar Cinemas. UltraStar Cinemas is recognized for pioneering the digital age of cinema. They are the first theater group in the world to be fully equipped with Pure Digital Cinema® powered by DLP Cinema® technology in all of their locations. The UltraStar Multi-tainment Center at Ak-Chin Circle features "One stop, non-stop entertainment." Guests experience adventure, competition, entertainment and relaxation all conveniently located under one roof. The Multi-tainment Center features state-of-the-art digital theaters, bowling, dining, sports lounge, live entertainment, laser tag and arcade gaming as well as corporate and private event facilities. It is located at 16000 Maricopa Rd., Maricopa, AZ http://www.ultrastarakchin.com
XXX
Media contact:
Christine Holtz
Phoenix Marketing Associates
602-282-0202