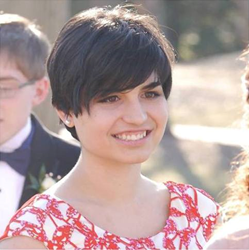 I am honored and humbled by my selection as the Clinton Award winner, especially in a field of incredibly qualified candidates
Raleigh, North Carolina (PRWEB) February 16, 2015
Maria Rose Belding from American University has been selected as the 2015 President Clinton Hunger Leadership Award winner for her dedication and leadership in the fight against hunger. The cash award is co-sponsored by Stop Hunger Now and NC State University Center for Student Leadership, Ethics and Public Service (CSLEPS). The award will be presented at the Universities Fighting World Hunger Summit on Feb. 21, 2015, at the University of Guelph in Guelph, Canada.
"I am honored and humbled by my selection as the Clinton Award winner, especially in a field of incredibly qualified candidates," says Belding. "I'm excited to head to Canada for the University Fighting World Hunger Summit to meet other young people doing similar work and learn from all they are doing."
Each year, undergraduate students across the globe with a passion to end hunger are invited to apply for the annual award named in honor of President Bill Clinton for his commitment to humanitarian causes, including the eradication of hunger. This is the eighth year the award has been presented to recognize outstanding leadership in the movement to end hunger.
Belding is the founder of MEANS (Matching Excess And Need for Stability), served as a judge for the 2013 World Food Prize Iowa Youth Institute and Global Youth Institute (GYI) and has received the President's Volunteer Service Award, Sodexo Foundation STOP Hunger Award, and the Prudential Spirit of Community Award.
The Clinton Hunger Leadership Award includes a $1500 cash prize from Stop Hunger Now for Belding to use in her further education and/or engagement in the fight to end hunger. The award will be presented during a Saturday evening banquet at the Universities Fighting World Hunger Summit.
Previous Clinton Award winners are: Azeem Ahmed, Auburn University (2014), Brendan Rice, University of Alabama (2013), Ryan O'Donnell, NC State (2012), Gavin Armstrong, University of Guelph (2011), Sarah Nam, Harvard (2010), and John Coggin, NC State University (2009).
For more information please contact Chessney Barrick Pullen at 757-469-7045 or at cbarrick(at)stphungernow(dot)org
For more than 15 years, Stop Hunger Now has been creating a movement to end hunger with more than 170,000,000 meals distributed along with other aid to 65 countries. Driven by a mission to end hunger in our lifetime, the organization provides food and life-saving aid to the world's most vulnerable and helps mobilize the necessary resources impacting millions of lives.
Stop Hunger Now meal packaging programs offer volunteers the opportunity to participate in a hands-on international hunger relief program and to become educated, engaged advocates for the world's poor and hungry. In 2013, Stop Hunger Now packaged 38.6 million meals in the U.S. and an additional 3.3 million meals were packaged by international locations.
In its efforts to respond to emergency needs around the world Stop Hunger Now receives and distributes significant donations of in-kind aid. These donations are large quantities of food, medicines, medical supplies and other such items as may be of use in fighting hunger and providing relief in a crisis. For more information visit http://www.stophungernow.org.