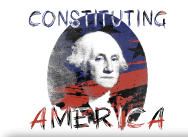 As a filmmaker - actress, director, writer, and singer - I am not only thrilled but impressed by our winners like Kory Shore this year.
Colleyville, TX (PRWEB) February 17, 2015
A Phoenixville, Pennsylvania high school student will be awarded a scholarship and mentoring trip with country music legend Vince Gill, as a national winner of Constituting America's annual "We the Future" contest.
Episcopal Academy student Kory Shore, 17, shared top honors in the "Best Song – High School Division" of the national contest, which gives prizes and scholarships to students from kindergarten to college to 65+ for creating original songs, short films, public service announcements, speeches, poems, drawings, photos and essays inspired by the U.S. Constitution. "Creating is one of the most effective ways for students to learn. We constantly hear from students across the country that entering our contest taught them more about the Constitution than they ever learned in a classroom," said Cathy Gillespie, co-chair of Constituting America and former chief of staff to a member of the U.S. House and a past commissioner on the President's Commission on White House Fellows.
"As a filmmaker - actress, director, writer, and singer - I am not only thrilled but impressed by our winners like Kory Shore this year. They are truly, incredibly talented and I know we will be seeing their name and works in lights soon - and thanks to Constituting America - with a citizen's commitment too," said actress Janine Turner who founded Constituting America in 2010.
All entries are judged by an esteemed panel of judges and winners in each category are awarded national exposure, a starring role in a documentary and cash prizes/gift cards. Short film, PSA, essay and speech winners are also awarded paid for travel for mentoring excursions, the chance to meet with industry leaders and an invitation to dine with a Constitutional Scholar. Additionally, short film winners are scheduled to meet with actor Gary Sinise in Hollywood while PSA essay and speech winners will meet with Fox News' Bret Baier and Brit Hume in Washington, DC. To view winning contest entries and winners' bios, please visit http://www.constitutingamerica.org.
About Constituting America:
Constituting America is a national educational nonprofit that utilizes culture to provide education and awareness of the Constitution and the rights and liberties it provides. Celebrating its fifth year anniversary, Constituting America is spotlighting new programs and educational resources, including a newly released music album entitled Rocking For Freedom, produced as a compilation of their best song winners from the past four years, as well as school presentations, Skype sessions, Patriot Clubs, and supplemental curriculum support through the best-selling Our Constitution Rocks book written by National Youth Director, Juliette Turner.
###