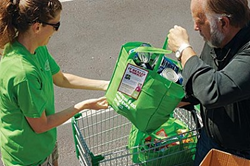 Sedona, Arizona (PRWEB) February 19, 2015
As in many areas of the U. S., the hunger epidemic in Arizona continues to cripple over 2 million working poor residents who live at or below the Federal Poverty Guidelines. Arizona is ranked number 8 nationally for food insecurity and has the third highest child hunger rate nationwide, surpassed only by New Mexico and Tennessee. According to Feeding America's 2012 Map the Meal Gap Study, food insecurity in Arizona affects of 1 out 5 residents, 1 out of 3 children and 1 out of 7 seniors.
As the demand for emergency food continues to increase, organizations and programs providing food to the hungry such as food banks, pantries and other emergency meal services are struggling to keep enough food on the shelves to meet the needs. The peak food donation season for food banks and other emergency food providers runs from September through December. During the off-season, most emergency food providers are forced to purchase food from local grocers and other available sources.
In August of 2013,Yavapai Food Council introduced the Yavapai Food Neighbors Project. The community based green bag project has attracted over 1500 local donors to date who commit to purchase one or two extra shelf stable items during each trip to the grocer. Every other month on the second Saturday the donors place their bags at their front door before 9am so Neighborhood Coordinators can collect the bags and deliver them to one of four collection sites. At the collection event incoming food is weighed, sorted and distributed to emergency food providers in a 3 hour time period on the collection day.
This innovative community project has already produced over 100,000 pounds of community-donated food and approximately 250,000 meals. The Yavapai Food Neighbors Project was inspired by the Oregon Neighborhood Food Projects and has become an instrumental component of the national Neighborhood Food Project. Over the last year, the Yavapai Food Neighbors Project has provided food to 16 emergency food providers across the county and supplied over 80% of the individual food items for Weekend Backpack programs and High School Youth Pantries. In addition, the project has directly influenced the quality and variety of food offered by the emergency food providers, including organics, gluten free, and other specialty items, ensuring food justice for the hungry.
"It's difficult to keep the canned goods stocked during the spring and summer," said Amy Aossey, Executive Director of Yavapai Food Council. I've heard from all food banks that are receiving shelf stable food from this project that they are seeing better quality food, an increase in the quantities of food they can depend on and a reduction in the amount of donated food that is or is close to expiration."
The success and proven system of the Yavapai Food Neighbors Project has grabbed the attention of emergency food agencies and the supporting organizations across Arizona. Yavapai Food Council, a small, grass-roots nonprofit organization, will offer assistance in 2015 to Arizona emergency food providers outside of Yavapai County in the implementation and management of this effective program. In addition, 2015 will include the inception of a statewide association, Arizona Association of Food Neighbors Projects.
About Yavapai Food Council: Yavapai Food Council (YFC) is 501c3 non-profit agency that supports those who feed the hungry. YFC hopes to add many other rural Arizona schools to the Food for Students National School Lunch Program in the near future. For more information or to make a AZ Charitable Tax Credit Donation to Yavapai Food Council, visit: http://www.YavapaiFoodCouncil.org or mail to: Yavapai Food Council, 2020 Contractors Road, Ste. 6, Sedona AZ 86336