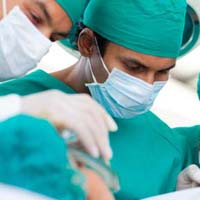 Repeat CRS and HIPEC can achieve prolonged survival.
Raleigh, NC (PRWEB) February 19, 2015
Mesothelioma studies in Canada and Singapore are refining the peritoneal mesothelioma treatment involving cytoreductive surgery and heated chemotherapy (CRS-HIPEC). Surviving Mesothelioma has the details on its website. Click here to read the full article.
In a new study conducted at the University of Montreal and published in Surgical Oncology, researchers found that mesothelioma patients treated with a heated rinse of a drug called oxaliplatin for 30 minutes after surgery all lived for a least a year and 91 percent lived for three years.
In a second CRS-HIPEC study at Singapore General Hospital, patients with various types of peritoneal malignancies were treated with repeated rounds of surgery and HIPEC with good results.
Writing in the World Journal of Surgery, study author Dr. Joelle Wong concludes, "Repeat CRS and HIPEC can achieve prolonged survival in selected patients with peritoneal-based malignancies, and can be performed with acceptable morbidity and mortality."
"Although CRS/HIPEC has quickly become the standard for treating peritoneal mesothelioma, there is still a lot that is not known about it," says Surviving Mesothelioma's managing editor, Alex Strauss. "Studies like these can make the procedure even more effective for the approximately 500 patients who are diagnosed with the condition each year."
To read the details of these and another recent HIPEC study, see http://survivingmesothelioma.com/refining-crs-, now available on the Surviving Mesothelioma website.
Wong, JF et al, "Repeat Cytoreductive Surgery and HIPEC for Peritoneal Surface Malignancy and Peritoneal Carcinomatosis", February 5, 2015, World Journal of Surgery, Epub ahead of print, http://www.ncbi.nlm.nih.gov/pubmed/25651962
For nearly ten years, Surviving Mesothelioma has brought readers the most important and ground-breaking news on the causes, diagnosis and treatment of mesothelioma. All Surviving Mesothelioma news is gathered and reported directly from the peer-reviewed medical literature. Written for patients and their loved ones, Surviving Mesothelioma news helps families make more informed decisions.