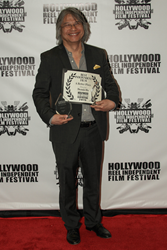 Hollywood, CA (PRWEB) February 20, 2015
Independent fantasy-drama, "A Better Place" has been awarded Best Independent Film in this year's Hollywood Reel Independent Film Festival (HRIFF). Additionally, Stephen Todt, who played the lead role of Jeremy in the film, received the Emerging Actor Spotlight Award for his performance.
"I can't express how mind-blowing it is to have my first film named as the Best Independent Film at HRIFF," said "A Better Place" Director Dennis Ho.
Dennis Ho is the founder of Digital Jungle Pictures, and the President of Digital Jungle Post Production - one of Hollywood's top-tier digital workflow studios.
"A Better Place," centers upon Jeremy Rollins, a shy and introverted young man with a mysterious and frightening power that has required him to live as a virtual shut-in for most of his life. After the death of his over-protective mother forces him into the world, he must confront – through the lens of his childlike innocence – the realities of a harsh society and the cruelties of the people it produces.
The trailer for "A Better Place" can be viewed at http://vimeo.com/103284137
Facebook: https://www.facebook.com/pages/A-Better-Place/322895004502251?ref=br_tf
For more information please visit: http://www.digijungle.com