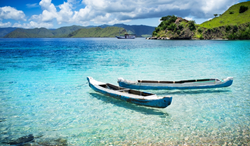 Since we did the first Dream Destinations list in 2013 it's become an eagerly awaited annual event in Asia luxury travel circles, for travellers and professionals alike
Bangkok, Thailand (PRWEB) February 18, 2015
Remote Lands, the world's leading ultra-luxe Asia travel designer, has released its Dozen Dream Destinations list for 2015.
The list is the luxury Asia specialist's pick of Asia destinations for high-end travellers for the coming year, and as usual features a mix of established destinations and more remote, far-flung spots.
This year's list features twelve remarkable locations from Central Asia to the Far East. The list includes the rarely visited Central Asian country Turkmenistan which is often likened to North Korea; Tibet's remote Guge Kingdom near the sacred Mt Kailash; China's increasingly popular Chengdu, with its adorable pandas and hot new hotels like Swire's Temple House ; the stunning Vietnamese mountain province of Ha Giang studded with hilltribe villages; Japan's gorgeous Kyushu Island with its dramatic natural beauty including 1000 year old oak trees and ancient volcanoes; Myanmar's only recently accessible Loikaw region with traditional culture virtually untouched by the outside world until this year; and many more.
Tim Russell, Remote Lands' Marketing Director, said: "Since we did the first Dream Destinations list in 2013 it's become an eagerly awaited annual event in Asia luxury travel circles, for travellers and professionals alike." He added: "This year's list has the usual Remote Lands blend of ultra-luxury, including 5-star hotels and private yachts, and remote adventure experiences such as village homestays and mountain trekking. We've also included suggested itineraries for each destination to help travellers with their holiday plans."
Catherine Heald, the company's co-founder & CEO told us: "We strive to be thought leaders about Asian travel and are constantly seeking new destinations and unique experiences. We love contrast and juxtaposition so on the one hand we look for far-flung places that are virtually unknown to foreigners and are arduous to reach, and where accommodations are extremely basic - but well worth the effort! And on the same journey we want to include extreme luxury if possible, so we experience both ends of the spectrum and appreciate each for what it is."
The full list, accompanied by stunning images, can be found on the company's popular Asia travel blog. For more information on any of the featured destinations, email info(AT)remotelands.com.
About Remote Lands, Inc.
Remote Lands, Inc. creates highly personalized, ultra-luxe holidays in Asia, optionally by private jet or yacht. Based in New York and Bangkok, we specialize in extraordinary experiences that are difficult to arrange and require privileged access to important people and exclusive events, drawing upon our relationships with remarkable people around Asia. We distinguish ourselves with our white-glove service, creative itineraries and extreme attention to detail.
Remote Lands has been featured in The New York Times, The Wall Street Journal, Departures, Travel + Leisure, Condé Nast Traveler, Town & Country, the BBC, Fox Business News, Financial Times, National Geographic Traveler, W, Newsweek, Forbes, BusinessWeek and more.
Remote Lands' destinations include: Bhutan, Cambodia, China, India, Indonesia, Japan, Laos, Malaysia, the Maldives, Mongolia, Myanmar (Burma), Nepal, North Korea, Papua New Guinea, the Philippines, Singapore, South Korea, Sri Lanka, Thailand and Vietnam.