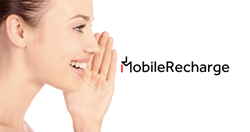 Muy bueno. Exelente y es facil. (Juan Martinez on Trustpilot.com)
(PRWEB) February 20, 2015
Good news for anyone having someone dear in France or Spain! Mobile users in these countries can receive mobile credit from their relatives or friends abroad, exclusively with MobileRecharge.com.
Credit received as mobile recharge will get to the prepaid number in France or Spain instantly, and the credit can be used according to the conditions of the local operator. The transfer of credit is made from a MobileRecharge.com account to the mobile in the other country in less than 1 minute at: http://mobilerecharge.com/buy/mobile_recharge
From case to case, the credit sent through MobileRecharge.com may consist of: national minutes, Internet traffic, international calling credit, SMS. All these details are available with the local operator managing the prepaid number (Movistar for example).
Daily promotions bring even more credit. All you need to know about these Bonuses can be found:

Making a mobile refill on MobileRecharge.com takes less than 1 minute. That is all due to:
the simple ordering form, available in English, Spanish, French, Italian and German
the easy-to-use MobileRecharge app for Android or iOS
the past-recharged numbers available for all on going top ups
MobileRecharge app is constantly optimized for top ups on the go and it is free to download on Google Play and App Store. It is also available in Spanish besides English for Android users.
Recharges to mobiles in France can be sent to prepaid Lebara, Lycamobile and Bouygues numbers. Minimum amount to be sent is $7.15 USD or the equivalent. That is available for top ups of Lebara and Lycamobile numbers. For Bouygues cell phones, the minimum value required is $14.30 USD.
22 networks in Spain receive top ups placed on MobileRechareg.com. More precisely, all prepaid numbers pertaining to the following operators can be refilled with the minimum amount of $6 to $8 USD or the equivalent: Movistar, Yoigo, Vodafone, Orange, Lebara, Lycamobile, Vodafone, Orbitel Movil, Best Móvil, Carrefour Móvil, Digi Mobil, Happy Móvil, GT Mobile, Jazztel, You Mobile, Simyo, Tuenti, Ortel Mobile, Mobilcat, MásMóvil, Euskaltel, Hits Mobile.
The only condition to send mobile credit to France or Spain or any other European country, remains that the sender has a free account on MobileRecharge.com. The account is never due, plus no maintenance fees apply.
Hundreds of thousands of expats use MobileRecharge.com monthly for the following reasons:
Best deals on the market (high recharge value; lowest processing fee on the international market)
No matter the distance, the top up is instant
Direct access to phone contacts with MobileRecharge app
Online access to orders and invoices; no extra costs
Daily Bonuses from 50%-700% extra credit
24/7 Customer Service by chat & email in English and Spanish
All major credit/debit cards accepted regardless of currency
PayPal accepted
It saves time and effort, since the transaction takes place online
Economical service in terms of time and money; no hassle when compared to money transfers
Mobile friendly interfaces.
MobileRecharge.com has been set up as a service that helps people living in residential countries to transfer mobile credit from their MobileRecharge.com account to mobiles in other countries, most often in countries they immigrated to.
MobileRecharge.com is an interactive website designed by KeepCalling, a global telecommunications company registered in 2002 in the USA. Presently, KeepCalling provides its services to hundreds of thousands of consumers and businesses, with a focus on customer satisfaction. KeepCalling has been listed by Inc 5000 in the top 20 telecom companies in the USA for the last 4 years. In 2014 the company was designated the 18th fastest growing company in the telecommunications industry in USA with a revenue increase of over 600% from 2010 to 2013.