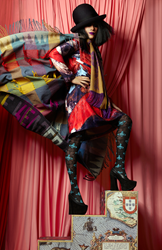 LOS ANGELES (PRWEB) March 03, 2015
"Johnny and Viv," a new exhibit curated by Johnny Stein and Woodbury University Fashion Department Creative Director Jared Gold that explores the role of fashion in gender identity, opens March 4 at the Nan Rae Gallery on the university's Burbank campus. The exhibit runs through April 4.
Stein has spent a lifetime creating a transgendered alter ego using an extensive collection of shoes, hats and garments designed by Vivienne Westwood. This collection, featured alongside life-size photo prints by celebrity photographers Albert Sanchez and Pedro Zalba, commemorative screen-printed posters and an interactive installation created by Gold, problematizes binary constructions of gender and illustrates the generative role that fashion can play in crossing boundaries of signification or classification.
"In developing this exhibit, I was particularly interested in Johnny's ability to create his own image using the Westwood pieces," says Gold. "Historic references are crossed and seasons unfold, and a creature is born."
The exhibit opens Wednesday, March 4, from 6 p.m. to 9 p.m., with a reception that will feature a personal walk through of the exhibit with Stein; at 5 p.m., Gold will moderate a question-and-answer session. The reception also will feature live fashion drawings by the Woodbury Fashion Department.
The Nan Rae Gallery@Woodbury University is located at 5400 Glenoaks Blvd. in Burbank and is open Tuesday through Saturday from noon – 5 p.m., with extended hours on Thursdays until 8 p.m.
About Woodbury University
Founded in 1884, Woodbury University is one of the oldest institutions of higher education in Southern California. It offers bachelor's degrees from the School of Architecture, School of Business, School of Media, Culture & Design, and College of Transdisciplinarity, along with a Master of Arts in Media for Social Justice, Master of Architecture (MArch), Master of Interior Architecture (MIA), Master of Science in Architecture (MSArch), and Master of Leadership. The San Diego campus offers Bachelor of Architecture and Master of Architecture degrees, as well as an MSArch degree with concentrations in Real Estate Development and Landscape + Urbanism. Woodbury ranks 15th among the nation's "25 Colleges That Add the Most Value," according to Money Magazine. Visit http://www.woodbury.edu for more information.