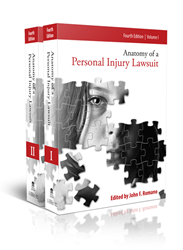 (PRWEB) February 20, 2015
This new edition provides a step-by-step guide through the process of a personal injury claim, from the initial client interview to closing statements, including:

Detailed discussions of how to negotiate for better outcomes during settlement and navigate through other alternatives to litigation.
Ways to present and make effective damages arguments for a variety of different kinds of cases (from punitive and wage-loss to noneconomic and medical related damages).
The importance of understanding vital details such as how insurance companies are likely to view clients' claims.
How to fight secrecy orders and deal with corporate defendants in discovery.
In-depth explorations into common medical issues in personal injury cases, from basic anatomy and medical examination to epidemiology.
An instructive overview on the benefits and methodology of using focus groups and mock trials to inform the strategies in settlement and trial.
Essential elements of trial including everything from jury selection to closing statements.
Whether you're settling your cases or following through to verdict, this is the must-have field manual to personal injury cases for every plaintiff's attorney in America.
ABOUT THE EDITOR
John F. Romano of Romano Law Group in West Palm Beach, Florida, is board certified by the Florida Bar and by the National Board of Trial Advocacy as a Civil Trial Advocate. He is also board certified by the American Board of Professional Liability Attorneys in medical malpractice.
Mr. Romano had held the following positions: president of the Academy of Florida Trial Lawyers, the Southern Trial Lawyers Association, and the National Trial Lawyers; chairman of the American Association for Justice's National College of Advocacy, and chairman of the AAJ's Criminal Law Section. He has authored three books: Strategic Use of Circumstantial Evidence, The Deposition Field Manual, and Opening Statements.
John Romano has gone to verdict in virtually every type of civil tort and criminal case including product liability, medical malpractice, defamation, negligent security, traumatic brain injury, wrongful death, trucking, paralysis, first degree murder, armed robbery, murder for hire, and more. He is a former captain in the United States Marine Corps. John and his wife of forty-five years, Nancy, have four sons and eleven grandchildren.
Where to buy: http://www.trialguides.com/anatomy-of-a-personal-injury-lawsuit
Contributors
Trial Guides was fortunate to have the contributions from over 60 talented experts in the field of Personal Injury Law. They Include:
Morgan Adams, Law Offices of Morgan Adams,
tennesseeaccidentlaw.com/morgan-adams.php
"Investigating the Case"
Mary E. Alexander, Mary Alexander and Associates
maryalexanderlaw.com/
"Structured Settlements"
Lori E. Andrus, Andrus and Anderson, LLP,
andrusanderson.com/
"Fighting Secrecy, Strategies from Discovery through Settlement"
Leslie A. Bailey, Public Justice,
publicjustice.net/
"Fighting Secrecy, Strategies from Discovery through Settlement"
James Bartimus, Bartimus, Frickleton, Robertson & Goza, PC
bflawfirm.com
"Case Themes, Case Theories, and Case Images"
William A. Barton, Barton Trial Attorneys
bartontrialattorneys.com
"Jury Instructions and Questions"
Timothy J. Becker, Johnson//Becker, PLLC
johnsonbecker.com
"Planning, Designing, and Handling the Plaintiff's Case-in-Chief"
Lisa Blue, Baron and Blue
baronandblue.com
"Mock Trials and Focus Groups"
Frank L. Branson, The Law Offices of Frank L. Branson
flbranson.com
"Demonstrative Evidence"
Virginia M. Buchanan, Levin, Papantonio, Thomas, Mitchell, Rafferty & Proctor PA
levinlaw.com
"E-Discovery and the Trial Lawyer"
Michael S. Burg, Burg, Simpson, Eldredge, Hersh & Jardine, PC
burgsimpson.com
"Damages: Punitive Damages"
Peter W. Burg, Burg, Simpson, Eldredge, Hersh & Jardine, PC
burgsimpson.com
"Damages: Punitive Damages"
William F. Cash III, Levin, Papantonio, Thomas, Mitchell, Rafferty & Proctor PA
levinlaw.com
"E-Discovery and the Trial Lawyer"
James B. Chaplin, Mediation Firm, Inc.
mediationfirminc.com
"Alternatives to Litigation: Mediation"
Arthur C. Croft, PhD, DC, MSc, MPH, Spine Research Institute of San Diego
srisd.com
"Medical Examination and Testing in Auto Cases: Common Practice and Myths"
William M. Cunningham, Burns, Cunningham & Mackey, PC
bcmlawyers.com
"Computers and Personal Injury Litigation"
Tom D'Amore, D'Amore Law Group
damorelaw.com
"Incident Reconstruction in Personal Injury, Motor Vehicle, and Trucking Cases"
Aaron DeShaw, Dr. Aaron DeShaw Esq. PC
deshawlaw.com
"The Segmentation of Injury Claims"
Anthony L. DeWitt, Bartimus, Frickleton, Robertson & Goza, PC
bflawfirm.com
"Case Themes, Case Theories, and Case Images"
Stuart R. Fraenkel, Kreindler & Kreindler LLP
kreindler.com
"The Analysis of Liability in Personal Injury and Wrongful Death Cases"
Joseph Fried, Fried, Rogers, Goldberg LLC
frg-law.com
"Investigating the Case" & "Incident Reconstruction in Personal Injury, Motor Vehicle, and Trucking Cases"
Brenda S. Fulmer, Searcy, Denney, Scarola, Barnhart & Shipley
searcylaw.com
"Mass Torts: The Bird's-Eye View"
Matt Garretson, Garretson Resolution Group
garretsongroup.com
"Lien Resolution and Medicare Set-Asides"
Marc D. Grossman, Sanders, Viener, Grossman
thesandersfirm.com
"Planning, Designing, and Handling the Plaintiff's Case-in-Chief"
Robert L. Habush, Habush, Habush & Rottier SC
habush.com
"Damages: Noneconomic Damages"
Dustin B. Herman, Romano Law Group
romanolawgroup.com
"The Analysis of Liability in Personal Injury and Wrongful Death Cases"
Robert B. Hirschhorn, Cathy E. Bennett & Associates, Inc.
cebjury.com
"Mock Trials and Focus Groups"
Richard A. Jenson, Jenson Research & Communications
jensonresearch.com
"Voir Dire Examination and Jury Selection: Liability" & "Voir Dire Examination and Jury Selection: Damages"
Julie Braman Kane, Colson, Hicks, Eidson
colson.com
"Direct Examination"
Mark R. Kosieradzki, Kosieradzki, Smith Law Firm, LLC
koslawfirm.com
"Accelerated Discovery: Cutting Through Obstruction"
Jeffrey J. Kroll, Salvi, Schostok & Pritchard PC
salvilaw.com
"Summation in Personal Injury and Wrongful Death"
Mark Lanier, The Lanier Law Firm
lanierlawfirm.com
"The Magic of Advocacy"
Jennifer Lapinski, Cathy E. Bennett & Associates, Inc.
cebjury.com
"Mock Trials and Focus Groups"
Judith Livingston, Kramer, Dillof, Livingston & Moore
kdlm.com
"Damages: Noneconomic Damages"
Michael Maggiano, Maggiano, DiGirolamo & Lizzi, Trial Attorneys
maggianolaw.com
"Damages: Noneconomic Damages"
Patrick A. Malone, Patrick Malone & Associates
patrickmalonelaw.com
"Fighting Secrecy: Strategies from Discovery through Settlement"
Randi McGinn, McGinn, Carpenter, Montoya & Love
mcginnlaw.com
"Opening Statement"
Mary Alice McLarty, McLarty & Pope, LLP
maryalice.com
"Damages: Medical, Hospital, and Related Expenses"
Phillip Miller, Miller Law Offices
philliphmiller.com
"General Discovery: Thirteen Rules for Effective Discovery"
Billie-Marie Morrison, Craig P. Kenny & Associates
Cpklaw.com
"Alternatives to Litigation: Arbitration"
Gretchen M. Nelson, Kreindler & Kreindler LLP
kreindler.com
"The Analysis of Liability in Personal Injury and Wrongful Death Cases"
Peter Perlman, Peter Perlman Law Offices, PSC
peteperlman.com
"Opening Statements"
Dorothy Perry, Burns, Cunningham & Mackey, PC
bcmlawyers.com
"Computers and Personal Injury Litigation"
Troy A. Rafferty, Levin, Papantonio, Thomas, Mitchell, Rafferty & Proctor PA
levinlaw.com
"E-Discovery and the Trial Lawyer"
John M. Restaino, Jr., DPM, JD, MPH, Restaino, Siler Attorneys & Counselors at Law
restainosiler.com
"Epidemiology"
Karen Roberts, Roberts & Roberts
robertslawfirm.com
"Initial Client Interview"
Daniel S. Robinson, Robinson, Calcagnie, Robinson, Shapiro, Davis, Inc.
rcrsd.com
"Using Expert Witnesses"
John F. Romano, Romano Law Group
http://www.romanolawgroup.com
"Damages: Noneconomic Damages", "Cross-Ups in Cross-Examination: the Art, the Science, the Methodology" & "The Trial Lawyer's Creed"
J. Eric Romano, Romano Law Group
romanolawgroup.com
"The Trial Lawyer's Creed"
Todd A. Romano, Romano Law Group
romanolawgroup.com
"The Trial Lawyer's Creed"
Jacob Rusch, Johnson//Becker, PLLC
johnsonbecker.com
"Planning, Designing, and Handling the Plaintiff's Case-in-Chief"
Clay Rossi, Burns, Cunningham & Mackey, PC
bcmlawyers.com
"Computers and Personal Injury Litigation"
P. J. Scheiner, Associates and Bruce L. Scheiner, Attorneys for the Injured
blslawyers.com
"Damages: Wage Loss Related Damages"
Paul Scoptur, Aiken & Scoptur, SC
plaintiffslaw.com
"General Discovery: Thirteen Rules for Effective Discovery"
Lance M. Sears, Bartimus, Frickleton, Robertson & Goza, P.C.
bflawfirm.com
"Case Themes, Case Theories, and Case Images"
Robert Shepherd, MS, CMI, FAMI, MediVisuals, Inc.
medivisuals.com
"Basic Medicine and Anatomy for the Personal Injury Lawyer"
Peter M. Schoshiem, MD, FACS, Physicians Medical Review
physiciansmedicalreview.com
"Basic Medicine and Anatomy for the Personal Injury Lawyer"
Kent Spence, The Spence Law Firm, LLC
spencelawyers.com
"Credibility in the Courtroom"
Joseph L. Vaccaro, Vaccaro E-Generation Applied Solutions, Inc.
jlvaccaroconsulting.com
"Settlement"
Tom Vesper, Westmoreland, Vesper, Quattrone & Beers
westmorelandvesper.com
"The Magic of Advocacy"
David A. Wenner, Snyder & Wenner, PC
snyderwenner.com
"Voir Dire Examination and Jury Selection: Liability" & "Voir Dire Examination and Jury Selection: Damages"