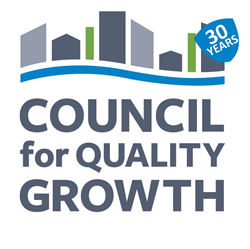 "The Council's board set a clear direction during the 2015 strategic planning session, partnering to advocate for economic development while protecting metro-area communities," said Michael E. Paris, president and CEO of the Council for Quality Growth.
Atlanta, GA (PRWEB) February 22, 2015
The Council for Quality Growth, a not-for-profit trade association that works to ensure that the Metro Atlanta region's regulatory environment supports quality growth and development, gathered its newly elected board of directors on January 30, 2015 for its first strategic planning session of 2015, which marks the advocacy organization's 30th anniversary. During the session, the board outlined priorities for the coming year, addressing economic planning, infrastructure needs, and tough quality-of-life issues throughout the metro Atlanta region and state. Speakers at the session included Michael Sullivan, president and CEO of ACEC Georgia and chairman of the Georgia Transportation Alliance; Senator Brandon L. Beach, president and CEO of the Greater North Fulton Chamber of Commerce; Chris Clark, president and CEO of the Georgia Chamber of Commerce; Ceasar Mitchell, Atlanta City Council president; and House Minority Leader Stacey Abrams.
"The Council's board of directors set a clear direction during the 2015 strategic planning session, partnering to advocate for economic development while protecting metro-area communities," said Michael E. Paris, president and CEO of the Council for Quality Growth. "We are honored that these accomplished leaders, who represent an outstanding cross section of professional and regional interests, have made a commitment to use their time, talents, and resources to help the Council carry out its mission of promoting balanced and responsible growth."
The 2015-16 board includes a combination of individuals who have served on the board for many years, as well as new additions to the organization's leadership structure. The below officers will serve a two-year term (2015 and 2016) on the board:

Chairman: Tim Lowe, Lowe Program Management
Vice Chairman: Scott Condra, Jacoby Development, Inc.
Secretary: Andy Macke, Comcast Cable Communications
Treasurer: Steven Labovitz, McKenna Long & Aldridge
Click here for the full list of 2015-16 board members:
About the Council for Quality Growth
The Council for Quality Growth is a trade organization that works to ensure continued growth and economic success for generations to come by providing advocacy, information and education to its members. Committed to the mission of promoting balanced and responsible growth, the Council is proactively involved in the formulation of policy and legislation critical to the growth and development industry. The Council addresses, head-on, strategic economic planning, infrastructure needs and tough quality-of-life issues throughout the metro Atlanta region and state. http://www.councilforqualitygrowth.org
###