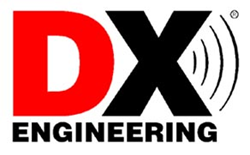 Tallmadge, OH (PRWEB) February 23, 2015
Experienced Ham radio enthusiasts know the importance of a proper grounding system for both safety and station performance. DX Engineering now carries Erico Products grounding equipment to enable Amateur Operators to build a comprehensive and professional-quality tower and shack ground system.
Tying together a station using Erico's Copper-Bonded Ground Rods and Ground Bar is the ideal method to ensure that all components remain at the same electrical potential. This limits possible damage from a lightning strike or voltage spike. Tying shack gear (e.g. radio, amplifier, etc.) to the same single-point ground (SPG) can also reduce electrical noise in the transmission line and audio signal path. Additionally, Erico makes clamps and connectors to provide a solid mechanical junction between grounding components.
The best way to secure a tower's grounding wire to its ground rod is by welding. The problem is, getting a welder out to a remote tower installation may not be easy. Erico's CADWELD Exothermic Welding process makes copper-to-copper or copper-to-steel electrical connections without the need for outside heat or power sources. When installed properly, Erico's CADWELD system creates a permanent bond that won't loosen or corrode over time.
DX Engineering
http://www.DXEngineering.com
1-800-777-0703