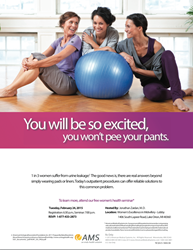 (PRWEB) February 22, 2015
1 in 3 women suffer from urine leakage. The good news is there are real answers beyond simply wearing pads or liners. Today's outpatient procedures can offer reliable solutions to this common problem.
Dr. Zaidan of Women's Excellence will be hosting a seminar on Tuesday, February at 7pm at Women's Excellence in Midwifery in Lake Orion, Michigan (1406 S. Lapeer Road, Lake Orion, MI 48360).
To register, call 1-877-433-2873.
Women's Excellence is the most comprehensive obstetric and gynecologic office in Michigan. They also specialize in menopause, weight control, bladder control, endometriosis, robotic surgery, pelvic floor physical therapy, and midwifery services. The knowledgeable, well-trained, compassionate physicians and healthcare providers of Women's Excellence are taking new patients and are conveniently located in three locations throughout southeastern Michigan, Birmingham, Lake Orion, Clarkston and Metamora. For more information, visit http://www.womensexcellence.com.