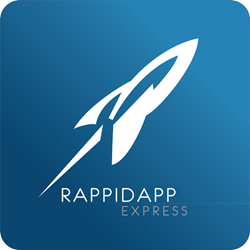 Atlanta, Georgia (PRWEB) March 02, 2015
rappidApp, the leading event mobile app provider, is pleased to announce its newest product enhancements, rappidApp Express and rappidApp Pro. These enhancements allow SignUp4 and rappidApp users to create, distribute, and manage unlimited apps for one flat-fee.
rappidApp Express and rappidApp Pro event apps are available right away, with no need for approval or deployment build times. Users have the ability to share access to the app via a link without the need to list the app within app stores. rappidApp will also automatically create the branded download landing page for clients, saving time by removing an additional step.
As an existing feature, rappidApp and Event Management System (EMS) users can choose to connect their app directly to their EMS event if they are using Profile Manager. Now; however, with the release of Simple Profiles, users have the option to create personalized profile tabs, agenda pages, attendee detail screens and more. Through custom questions on the registration form, fields can be carried over to the app to allow for an increase in personalization. This functionality can be connected before, during, or after registration, allowing users to set-up profiles at their convenience.
"We recognized the need to connect event registration and event apps in a more convenient way. With the creation of Simple Profiles and rappidAppp Express, we've developed a simplified and timely app release method as well as additional options for creating personalized content for attendees," stated Michael Sabani, rappidApp Product Owner.
About rappidApp
A cutting-edge cloud-based mobile app platform, rappidApp simplifies the mobile app development process. This innovative platform allows for the creation of native apps, which are completely customizable through a web-based content management system that eliminates the need for advanced development expertise. With rappidApp, users can customize every detail of app design and content, guaranteeing app-users a consistent and well-branded mobile experience. Users can update content and view changes inside the app real-time. Easy-to-use, rappidApp is quick-to-market and loaded with the robust features of a true native app. rappidApp is headquartered in Atlanta, Georgia. For more information, visit http://www.getrappidapp.com and follow us @rappidApp.