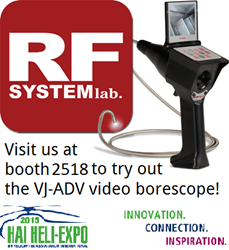 Traverse City, MI (PRWEB) February 25, 2015
At the beginning of next month, RF System Lab borescope experts Casey O'Tool and Jess Kuznicki will trade the frigid temperatures of Traverse City, Michigan, for the warmer weather in Orlando, Florida, to attend HAI's Heli-Expo 2015. This will be RF System Lab's fourth year at Heli-Expo, which is taking place from March 2-5, 2015, at the Orange County Convention Center.
Heli-Expo is the world's largest helicopter show, and the conference website boasts that it features over 1 million square feet of exhibit and meeting space. Additionally, the trade show promises over 700 exhibits, 60+ helicopters, and an audience of around 20,000 helicopter industry professionals.
RF System Lab is looking forward to returning as one of those 700+ exhibitors. Casey O'Tool and Jess Kuznicki will be presenting the VJ-Advance articulating video borescope to aviation professionals looking to add a high-quality inspection camera to their arsenal. The VJ-Advance has become a favorite with top names in aviation, especially the 3.9mm diameter borescope, which is the perfect fit for Pratt & Whitney engines.
Interested attendees can stop by booth #2518 for an opportunity to test out the VJ-Advance video borescope and experience the ease of joystick-controlled articulation. Casey O'Tool and Jess Kuznicki will be available to answer any questions about remote visual inspection for helicopters and to provide details about how the VJ-Advance is a must-have addition to any quality control and maintenance program.
Visit the Heli-Expo website for more information about this year's show.
RF System Lab is excited to exhibit again this year at booth #2518. If aviation maintenance professionals are unable to attend the conference, but still want to test out the VJ-Advance, they can take advantage of RF System Lab's no cost, no obligation demo offer.