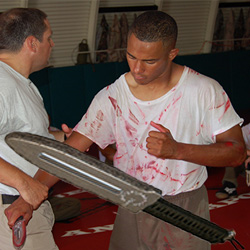 Hank Hayes / No Lie Blades is one of the best when it comes to getting results in hands in knife weapon / combat tactics
Virginia Beach, Va (PRWEB) February 24, 2015
The No Lie Blade training knife gets the practitioner as close to an actual knife encounter as one can get without the real danger of getting cut. These knives also give the ability to better the operator's skills every single time they train because injured areas are immediately seen, allowing the student to instantly adjust tactical movements.
The No Lie training blades are just what their name implies, "No Lie". These training knives are used heavily by the armed forces in both military and law enforcement as well as Israeli martial arts and self defense classes. The training knives provide so much crucial and immediate information that any person, team or organization who is serious about bettering their skills cannot deny the need for such a tool.
"No Lie Blades training and marking training knives are top notch." says US Marines Sgt. Mitchell. He states, "Hank Hayes / No Lie Blades is one of the best when it comes to getting results in hands in knife weapon / combat tactics." When we asked Mr. Hayes how he attained these skills he said, "The marking training knife did all the work in letting us know exactly where our weak and strong areas were. The tactical system was literally developed from the feedback the training knife provided us. It's almost idiot proof".
When the Military special teams training command saw the No Lie Blades fighting system with the training knife in action, they immediately thought it would make a great addition to the supplemental training their senior trainers receive. The No Lie Blades tactical system and training is very effective but what makes it so sought after are two things, A) It's extremely easy to learn and teach. B) It works for almost anybody, most of the time in most all attack situations.
From just a rough drawing on a napkin, Hank Hayes has now built a company that, "has saved thousands of US lives," says Sgt Mjr. Hines of the United States Marines. No Lie Blades has successfully trained over 11,400 armed forces personally to date and has other tactical training inventions being brought to market.
Aspiring martial artists, law enforcement, military and corrections professionals benefit greatly from a training instrument that helps them instantaneously evaluate their abilities without the worry of getting stabbed or stabbing/cutting their training partner.
This training evolution at Quantico will be one of many up and coming special teams training, teaching senior instructors how to properly use the No Lie Blades training knives but more importantly teach the instructors how to identify any sticking point students experience and move the student past them.
If you're interested in moving your skill, your command, troops or students to the next level of combative readiness, contact No Lie Blades and acquire a set of training knives, DVD instructional videos or live tactical combat readiness training at http://www.nolieblades.com