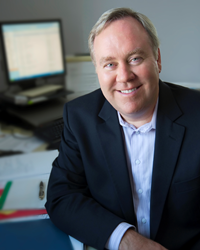 The SPBA is the visionary organization for TPAs and I am honored to be named chairman of its board of directors.
(PRWEB) February 25, 2015
Serving as the president and CEO of Midwest-based Cypress Benefit Administrators since 2000, Tom Doney has been named the 2015 chairman of the national board of directors for the Society of Professional Benefit Administrators (SPBA).
Cypress is a third party administrator (TPA) that represents employer-clients across the United States and helps them implement customized self-funded benefit plans at their workplaces with an emphasis on cost containment. The SPBA specializes in helping TPAs understand and interpret the real-world effects of related regulatory requirements to achieve the most cost-effective outcomes. It also provides comprehensive administrative services in regard to employee benefit plans.
"The SPBA is the visionary organization for TPAs and I am honored to be named chairman of its board of directors," Doney said. "I look forward to formally taking on this top leadership role along with the responsibility of guiding SPBA's mission of achieving excellence in health care cost containment."
In his leadership role at Cypress over the past 15 years, Doney and Cypress co-founder, Marsha Phillips, have expanded the company to include five locations throughout the country.
The TPA also continues to achieve success in its long-term cost containment efforts as Cypress has reported an average increase of just 1.93% annually in medical plan costs from 2007 to 2013. The average national cost increase was 7.14% for the same time period.
In addition to Doney's appointment as SPBA chairman for 2015, Cypress was named a Business of the Year by the Fox Cities Chamber of Commerce & Industry in 2013 and was included on Inc. magazine's 500|5000 list as a Top 100 Insurance Company for growth in the U.S.
"This is an exciting time for the SPBA and the self-funding industry as a whole," Doney said. "I am proud to be part of an organization that is so fundamental to the day-to-day operations of TPAs."
A privately held company headquartered in Appleton, Wis., Cypress Benefit Administrators has been pioneering the way toward cost containment in self-funded health benefits since 2000. The third party administrator (TPA) is the country's first to bring claims administration, consumer driven health plans and proven cost control measures together into one package for companies ranging from 50 employees to thousands of employees. It serves employer-clients across the U.S. with additional locations in Portland and Salem, Ore., Omaha, Neb. and Denver, Col. For more information on Cypress and its customized employee benefits, visit http://www.cypressbenefit.com.
SPBA is the national association of Third Party Administration (TPA) firms that manage client employee benefit plans. It is estimated that 55% of U.S. workers and their dependents in non-federal health coverage are in plans administered by TPAs. The clients of TPA firms include every size and format of employment, including large and small employers, state/county/city plans, union, non-union, collectively bargained multiemployer plans, as well as most industries and professions.