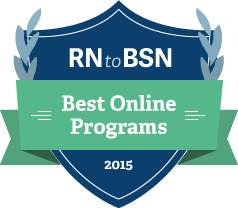 ...the number and range of nursing education options are dizzying, RNtoBSN.org's rankings help to connect nurses with their best-fit BSN completion programs online.
Houston, Texas (PRWEB) February 25, 2015
RNtoBSN.org has released its rankings for the top online RN-to-BSN programs of 2015. Through RN-to-BSN bridge programs, current registered nurses can complete a bachelor's in nursing within two years, even while working. According to the AACN, enrollment in these programs has grown year-on-year for more than a decade, with more than a 22.2% jump between 2011-12 alone.
Nurses who hold post-secondary degrees are poised to take on new leadership positions attending this growth.The Institute of Medicine (IOM) also calls for higher levels of education among U.S. nurses, recommending that the U.S. increase the number of RNs who hold a BSN degree to 80% by 2020.
"The national nursing shortage is not just a game of numbers," says RNtoBSN's nursing expert Caroline Porter Thomas. "U.S. health care facilities don't just need more nurses, they need a more highly-educated nursing staff. Opportunities for nurses who hold higher degrees are expanding; it's our goal to prepare nurses to meet these new opportunities head-on."
Rising interest in these programs comes as no surprise. Demand for nurses is expected to grow at nearly double the rate of other U.S. occupations over the next decade, the BLS estimates nearly 20% more nursing positions will open by 2022.
Each program ranked by RNtoBSN offers an online BSN bridge program with campus-based coursework options and provides full academic support and placement services to online students. Only schools with the highest-caliber curriculums and high performing graduates were included. Final rankings were determined by each school's NCLEX pass rates. Together, these online schools averaged higher nursing exam pass rates than their campus-based equivalents from 2009-2012.
Out of over 700 ACCN-accredited schools offering the RN-to-BSN program in the U.S., just 103 made this list. At a time when the number and range of nursing education options are dizzying, RNtoBSN.org's rankings help to connect nurses with their best-fit BSN completion programs online.
Ranking first on the list is Delta State University in Cleveland, MS. Each school in the top ten is located in the southern or midwestern United States.
The Top 25 RN-to-BSN Programs Online
Delta State University - Cleveland, MS
Indiana University - South Bend, IN
Eastern Kentucky University - Richmond, KY
University of Southern Indiana - Evansville, IN
Western Carolina University - Cullowhee, NC
The University of Tennessee - Chattanooga, TN
Georgia College & State University - Milledgeville, GA
Illinois State University - Normal, IL
Western Kentucky University - Bowling Green, KY
Northwest Florida State College - Niceville, FL
Montana Tech of the University of Montana - Butte, MT
University of Louisiana at Lafayette - Lafayette, LA
The University of Alabama - Tuscaloosa, AL
The University of Memphis - Memphis, TN
University of Miami - Coral Gables, FL
Ohio State University - Columbus, OH
The University of Iowa - Iowa City, IA
University of Arkansas - Fayetteville, AR
California State University-Bakersfield - Bakersfield, CA
Morehead State University - Morehead, KY
University of Saint Francis-Fort Wayne - Fort Wayne, IN
Northwestern State University of Louisiana - Natchitoches, LA
University of Central Missouri - Warrensburg, MO
The University of Utah - Salt Lake City, UT
University of West Florida - Pensacola, FL
Review RNtoBSN.org's complete online rankings here.
About RNtoBSN.org
Founded in 2014 in response to the Institute of Medicine's call for more Registered Nurses to earn their bachelor's degrees, RNtoBSN.org is dedicated to connecting nurses with resources they need to advance their educations and careers.
RNtoBSN's online materials have been referenced by state and national nursing organizations like the Society of Pediatric Nurses, state boards of education and health and universities large and small from the University of Michigan to California's Claremont Colleges.