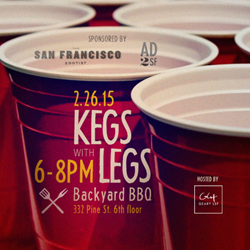 The Kegs With Legs event is free to attend and open to the general public.
San Francisco, CA (PRWEB) February 24, 2015
Digital advertising agency, Geary LSF, in conjunction with AD2SF, a division of the San Francisco Advertising Club, and SF Egotist, will be hosting an open house for young advertising professionals in the form of a networking event called Kegs With Legs. The event will take place at the Geary LSF downtown San Francisco headquarters and is designed to provide young professionals valuable insight into the advertising industry, while networking with their peers over a beer.
"As a company, we value our employees and consider them our number one asset. After all, our people are what set us apart in the industry and what make us unique," says Anna Mikituk, Human Resources Manager for Geary LSF. "We want to be able to share the talent and knowledge of our team with the San Francisco community, as well as our local advertising colleagues. This event is the perfect opportunity to do just that."
The Kegs With Legs event is free to attend and open to the general public and people of all ages. Attendees will have the opportunity to mingle and network while food and beverages are served, and entertainment ensues in the form of live music, corn hole competitions and more.
For more information about the event, or to purchase a ticket, please visit the AD2SF website here. If you're interested in a career at Geary LSF, please see the current open positions.