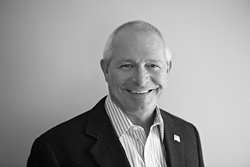 Our topic of how to become remarkable at retail is one we are passionate about.
Stamford, Connecticut (PRWEB) February 25, 2015
Emerge Strategic Solutions, Inc., a leading retail management consultancy and expert in private brand development, today announced they have been selected to be one of the keynote presentations at WMU's renowned food conference on March 16th and 17th. The Conference is celebrating its 50th anniversary this year and expects well over 600 people in attendance to hear speakers like Leslie Sarasin, CEO, Food Marketing Institute, Al Carey, CEO PepsiCo Americas Beverages and Dennis Eidson, CEO of Spartan Nash.
"We are really excited to be keynoting the conference alongside such a distinguished group of leaders," said Mark Dickinson, Managing Partner of Emerge. "Our topic of how to become remarkable at retail is one we are passionate about, and the goal is to help move companies from following to leading, from average to top performer, and to provoke retailers and CPGs to look in the mirror anew."
Perry Seelert, Strategic Partner of Emerge, said "Being unremarkable if you are a retailer or CPG today is a death sentence. Knowing your DNA and expressing it poignantly is the key to your success. Our goal in the presentation is to stimulate retailers to think about their place in the world distinctly and provide a new perspective on trends like the need-for-speed and the virtue of simplicity."
For more information on the upcoming WMU Food Conference, the speakers and agenda, see http://wmich.edu/foodmarketing/fmc/
About Emerge Strategic Solutions, Inc.
Emerge is a strategic management consultancy dedicated to helping retailers, manufacturers and service providers differentiate their brands, customer experiences and go-to-market approaches with more power, meaning and action. Their goal is to sharpen their clients' unique DNA within retail, and they are known particularly for their expert understanding of retailer's own brands. Mark Dickinson and Perry Seelert, the two leading partners of Emerge, have over 50 years experience unlocking innovation and the "emerging" potential of retailers and CPGs, working across ten different classes of trade on five continents. See more at emergefromthepack.com and twitter.com/emerge_tweets.