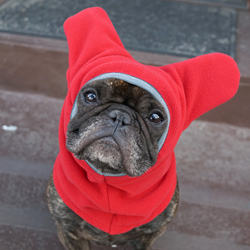 Veterinarian Dr. Mary Altomare, DVM likes the BatHat™ because "it addresses the issue not only for general warmth and comfort, but also the problem of cold extremities."
JERSEY CITY, NJ (PRWEB) February 24, 2015
On Tuesday, February 24 at 9PM EST, Snorf Industries will launch the most adorable Kickstarter campaign in the history of the crowdfunding website. Snorf Industries, maker of premium and custom apparel for French Bulldogs, is gearing up for expanded production of their patent-pending designs for hats and hoodies. The unique product line protects dogs' delicate ears from frostbite and other hazards.  With a successfully funded Kickstarter campaign, the company will begin manufacturing its Polartec® hats and hoodies for the masses — with new breed-specific sizes for English Bulldogs, Pugs, and Boston Terriers.
Veterinarian Dr. Mary Altomare, DVM says, "Unlike Huskies, French Bulldogs have very short hair on their ears. There's nothing really protecting them from the elements. And since their ears are meant to cool them down, exposure to cold absolutely brings down their core body temperature." She likes the BatHat™ because "it addresses the issue not only for general warmth and comfort, but also the problem of cold extremities. There are copious dog products geared towards winter on the market, however none keep the ear pinnas (tips) safe from cold weather while allowing them to stay erect in their natural form."
The company's owner, Dara Moss, is a copywriter in advertising by trade— having worked at many of the world's top ad agencies. She began Snorf Industries as a passion project at the end of 2013. The buzz around early 2014's "Polar Vortex" inspired the invention of the Original BatHat™, the company's signature product. Upon trying the hat on her French Bulldog, Enzo, she found it actually worked in those arctic temperatures. She made it available in her Etsy shop and immediately received orders for the item.
"I never thought I'd leave my job in advertising to make hats for dogs," jokes founder, Dara Moss. "However, this has been an incredible journey. I have so much respect for small business owners. When our sales jumped over 700% in a matter of months, I learned how much work really goes into creating something of your own. And it's taken a small army of friends and family to make Snorf Industries possible. It's been a truly humbling experience."
Now with a non-provisional utility patent pending for the BatHat™ hats and hoodies, Snorf Industries hopes it finds success in this campaign — but not just for fiscal reasons. The company has been donating to rescue charities since its inception and hopes to continue this well into the future. Last fall, Snorf Industries partnered with Jenna Teti Dog Training to donate a number of BatHats™ to foster and hospice dogs with chronic illnesses. The French Bulldog Rescue Network (FBRN) recently endorsed the BatHat™ to help protect French Bulldogs' bat-ears from frostbite.
The Kickstarter campaign's rewards will be offering significant discounts on their products, with a target delivery of October 2015. The campaign will offer Original BatHats™, BatHat™ Sports, Santa BatHats™, Original BatHat™ Hoodies, and Winter BatHat™ hoodies for all four breeds, as well as two Limited Edition T-shirt designs in Men's, Women's, and Kids' sizes. The company only needs to raise $18,000 to begin manufacturing, but raising more would make it possible to offer a wider range of colors to pledgers and consumers.
---
For the latest links, updates, downloadable hi-res images, and a direct link to our live Kickstarter page, visit http://snorfindustries.com/press
For a direct link to our collection of hi-res images, visit http://j.mp/snorfimages
See some of the world's coziest customers on our Instagram feed, http://www.instagram.com/snorfindustries