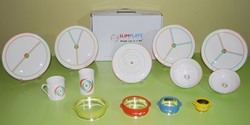 "It's an important routine to get into if you can," Dr. Nwe said. "It promotes healthier eating habits in children, and promotes better digestion by working with your internal body clock."
Rock Hill, South Carolina (PRWEB) March 20, 2015
In the past fifteen years, the number of families who eats dinner together at least five nights a week has jumped ten perfect. According to weight loss expert Dr. Myo Nwe, that's good news for parents attempting to shed extra pounds.
The findings from the National Center on Addiction and Substance Abuse at Columbia University indicate that 57 percent of families dine together at least five nights a week, compared to only 47 percent in 1997. The results appeared in the center's eighth report on "The Importance of Family Dinner."
Dr. Nwe, co-founder of the Ace Medical Weight Loss Center in South Carolina and author of the dieting book "Fat Me Not", encourages patients to eat at home whenever possible, and to follow regular mealtime routines as a family. This, she says, "establishes more healthy eating patterns while also strengthening family connections."
"It's an important routine to get into if you can," Dr. Nwe said. "It promotes healthier eating habits in children, and promotes better digestion by working with your internal body clock."
Dr. Nwe, an internal medicine specialist, developed the Slimplate Weight Loss System with her husband, Dr. Sandeep Grewal, also an internal medicine specialist. The system helps dieters maintain proper portion control through specifically measured plates, cups and saucers.
"Among the key elements we looked at in designing the Slimplate System was decor and sturdiness," Dr. Nwe explains. "We wanted quality flatware that would fit in at any dining table. We didn't want people to feel ostracized at their own kitchen table, using flimsy or brightly-colored plates while everyone else uses normal flatware."
"Part of what makes eating with your family so special is the connections made with one another," she added.
The study is conducted to determine how eating together impacts other elements of family life, specifically the likelihood of substance abuse among teens. For instance, teens from families who eat together five or more nights per week were more than four times less likely to have abused prescription drugs, and two and half times more likely to have used tobacco.
"You just can't underestimate the power of simple things like sitting down for a meal together." Dr. Nwe said. Along with that Dr Nwe shares few tips on how to choose the right diet and here are the three.
1. The diet plan should allow real food
2. The diet plan should be easy to do
3. The diet plan should develop you a healthy habit for long term.
More information on the SlimPlate Weight Loss Diet is available on http://www.slimplatesystem.com