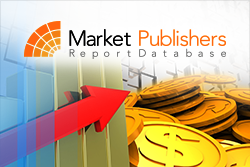 London, UK (PRWEB) February 24, 2015
As of 2014, there were approximately 263,340 HNWIs in Italy, up by over 1.65 percent from 2013. In 2013, the figure rose by 2.5 percent from 2012. In 2014, the local HNWIs held USD 1.1 trillion, with each HNWI holding wealth of more than USD 4.2 million on average.
The HNWIs held over USD 424.9 billion (38.2 percent) overseas (as of late 2014), while the worldwide average ranges from 20 percent to 30 percent.
Growth in HNWI wealth as well as volumes is forecast to continue in the upcoming years and it is likely to be much higher than before. The total number of the local HNWIs is set to grow by more than 18.9 percent in the future. It is expected to almost reach the 318, 670 mark in 2019. In the meantime, the HNWI wealth is likely to increase by over 31 percent to amount to USD 1.5 trillion in the same year.
New market research report "Italy Wealth Report 2015" developed by WealthInsight is now available at MarketPublishers.com.
Report Details:
Title: Italy Wealth Report 2015
Published: February, 2015
Pages: 114
Price: US$ 4,995.00
http://marketpublishers.com/report/business_services/wealth_management/italy-wealth-report-2015.html
This cutting-edge market research study offers an up-close look at the Italian wealth sector. The report provides an in-depth discussion of the local wealth management market and valuable data on local HNWI population. It covers economic, political as well as social background of the sector. The study highlights trends in HNWI wealth; limelights UHNWIs performance and uncovers information related to local core HNWIs. The research report includes an insightful analysis of HNWI investments in the country and delves into the competitive landscape of the sector. Besides, the study comprises future development forecast for the sector.
Report Scope:

data on HNWI wealth, volume as well as allocation trends for the period 2009-2013; future forecasts;
independent market sizing of local HNWIs across 5 wealth brands;
breakdown of all foreign assets by geography;
coverage of HNWI populations in major cities;
details on factors driving HNWI wealth;
and more.
More new insightful market research reports by the publisher can be found at WealthInsight page.