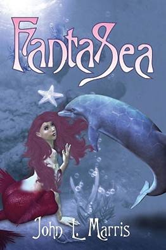 'This imaginative novel offers a fascinating look at life in the sea, and the abilities of dolphins and other sea creatures.' - Robert Fletcher, CEO of Strategic Book Publishing and Rights Agency
(PRWEB) March 02, 2015
Meet Delphyne the dolphin, who saves the mermaid princess Muriel from deadly sharks in a most daring rescue. And that's just the beginning of this marvelous tale! Through victory or defeat, their relationship blossoms.
The exciting and heartwarming adventure "FantaSea" will appeal to all readers, young and old, who enjoy nonstop action and adventure.
There's plenty of humorous banter too between the characters, which makes for a rousing read as their adventures take them to reefs all over the sea. The clever plot includes a wedding presided over by the Holy Mackerel, with one of the bands performing named Rudy and the Blowfish. The characters' names provide a wonderful play on words, as well as the conversations.
The plot drifts between stirring action, the realities of life in the sea, despair and laughter. Get ready for 304 pages of underwater adventures!
Watch the video book trailer at: https://www.youtube.com/watch?v=fGKA-2S6P_g&feature=youtu.be
"This imaginative novel offers a fascinating look at life in the sea, and the abilities of dolphins and other sea creatures. We are thrilled to announce its release," said Robert Fletcher, CEO of Strategic Book Publishing and Rights Agency.
About the Author:
John L. Marris was the former owner/chef of Exquisite Cuisine and author of the cookbook The Exquisite Cuisine Learn to Cook Gourmet Cookbook. He used to help rehabilitate dolphins and feels a great affinity with animals. The author is now a quadriplegic and writes through voice recognition. Wanting to be a writer since high school, he now has the time to create happy or horror stories, both for therapy and to entertain. "I find inspiration everywhere, especially from my better half, Linda, my black lab, Lady, and the dolphin." A native of Wisconsin, he now lives in Fort Walton Beach, Florida.
FANTASEA (ISBN: 978-1-60976-797-6) is now available for $17.95 and can be ordered through the publisher's website:
http://sbpra.com/JohnLMarris or at http://www.amazon.com or http://www.barnesandnoble.com.
WHOLESALERS: This book is distributed by Ingram Books and other wholesale distributors. Contact your representative with the ISBN for purchase. Wholesale purchase for retailers, universities, libraries, and other organizations is also available through the publisher; please email bookorder(at)sbpra(dot)net.