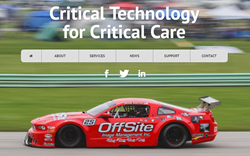 "We think of ourselves as the Trans Am of the diagnostic image access world, because we can share patient images to any doctor, hospital, clinic or facility anytime, anywhere. Like Trans Am, we keep getting faster and more efficient."
Kansas City, Missouri (PRWEB) February 26, 2015
Soon the unmistakable, iconic status of the Trans Am will be the name spoken, viewed and revered again among race fans as the 2015 Trans Am Road Racing Series kicks off in March. This year, driver Ron Keith returns with a new car, new team and new energy sponsored by Offsite Image Management, Inc.
As semi-pro road racer Ron Keith says, "There's nothing like the Trans Am name … that's what makes this series so much fun for the teams and the audience. Everyone has dreamed of one at some point."
Not only has Keith dreamed of (and raced) fast cars most of his life, he's now entering his second season of the Trans Am Road Racing Series, held at several states in the Midwest, South and Northeast. Once again, Offsite Image Management will be the logo on the car and the driver's suit, selected by Offsite's founders because it helps showcase the speed and reliability of their cutting-edge healthcare image management and access solutions.
"Offsite Image Management, one of the premier leaders in radiology image access, such as vendor neutral image archiving, DICOM and structured data solutions, sees some of our own philosophy in the Trans Am Road Racing Series," says Lasha Dalakishvili, president and founder, Offsite Image Management. "We think of ourselves as the Trans Am of the diagnostic image access world, because we can share patient images to any doctor, hospital, clinic or facility anytime, anywhere. Like Trans Am, we keep getting faster and more efficient."
Dalakishvili adds that watching a car speed around the Trans Am Racing Series is similar to what his company does in the healthcare industry. "The technology solutions we offer for radiology image access are critically important to quality care and diagnosis, as well as to meeting Meaningful Use requirements," he says. "Old solutions, like images on CD or those that are software-based, are cumbersome, difficult to use and difficult to share. It would be like trying to win a race in a cargo van – or winning that race with an actual race car."
Keith explains that many of the cars in the Trans Am series are owned and raced by executives on a hobby level, but it remains an "upper-end" race venue. In 2015, more race fans than ever will view the excitement, with six of the 12 races to be recorded and viewed on CBS Sports this year.
"We're ready to hit the track with a brand new car, manufactured by Howe. We're hoping the performance will be even better, that the new car will be faster … We know the competition is going to be tougher than ever with more cars entering this year, but we'll be ready," says Keith.
For the 2015 series, Offsite Image Management's new race car will be managed with a new team, which is Keith's own team called BRP Racing. Crew Chief is Rick Beebe, bringing 40-plus years in racing and once a driver himself, including ASA racing series and dirt series experience. In the 2014 series, Keith finished third overall, made it to the podium at all but three races and won the Brainard, Minn., race. This season marks his second year as a professional race car driver.
Just as the Trans Am Road Racing series continues to gain drivers and fans, Offsite has doubled in size as a company in the past 12 months and is a dominating force in image management for healthcare.
"We're passionate about what we offer clinics and hospitals, and many of those we serve are in the race regions for the Trans Am series," says Dalakishvilli. "We have fast, efficient and cutting-edge technology solutions that can overcome the problems associated with legacy or software-based systems. We want to be very vocal in how we share this message."
About the Trans Am Series:
The Trans Am Series is America's Road Racing Series and dates back to 1966. Throughout the years, names like Peter Gregg, Tommy Kendall, Mark Donohue, Bob Tullius and Wally Dallenback, Jr. have all won multiple championships under the Trans Am name. The iconic Trans Am Series – America's Road Racing Series – is operated by the Trans Am Race Company, LLC. Through a five-year agreement, the Trans Am Race Company manages the marketing rights to the series and is responsible for Trans Am Series public relations and promotions. SCCA Pro Racing sanctions Trans Am events and provides event operations services to the series.
Trans Am Series races in Florida on March 1, 2015, with races continuing through mid-November. For more information, visit http://gotransam.com/.
About Offsite Image Management:
Visit OffSite Image Management online at http://www.offsiteimagemgt.com to learn more about Virtual CD, DICOM, structured data and their other solutions for radiological image storing and sharing. With more than 58 million images archived to-date, Offsite is quickly becoming one of the nation's leaders in vendor neutral image sharing for healthcare facilities.