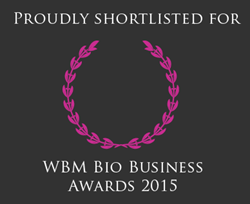 The award recognizes business excellence & innovation in the bio-based industry.
Rome, GA (PRWEB) February 25, 2015
Hydro Dynamics, Inc. (HDI) of Rome, Georgia would like to announce that its ShockWave Power Reactor (SPR) biogas technology (BioSPR) is a shortlist finalist for a 2015 World Bio Markets (WBM) Bio Business award. The award "recognizes business excellence & innovation in the bio-based industry". The winners will be announced on March 2, 2015 at a ceremony at the National Maritime Museum in Amsterdam, Netherlands.
HDI is proud to be on the shortlist along with these prestigious fellow nominees:
WBM Award for Excellence in Advanced Biofuels 2015 Shortlist

United Airlines, AltAir, Honeywell UOP, LA World Airports & World Fuel Services
Hydro Dynamics, Inc. (BioSPR equipment)
DuPont & Procter & Gamble
Project Solaris
EUROBIOREF Consortium (FP7 Project) OBRPR, WSKRZ, PDC & ARKEMA
Cathay pacific Airways
Airbus & KLM
Neste Oil Corporation
Biogas is the production of methane through the digestion of mostly waste materials such as agricultural waste, food scraps or manure. Biogas is a widely used form of alternative energy in Europe and growing elsewhere. The technology was developed cooperatively with Three-Es, HDI's Milan, Italy based European partner. Together they have adapted the longstanding SPR technology specifically for biogas and now have many European commercial installations.
The BioSPR equipment uses the physical phenomenon of cavitation, normally known as destructive force, and controls it rendering it non-damaging to equipment. This BioSPR uses the pressure fluctuations and extraction ability of cavitation to makes the fats, sugars, proteins and starches more accessible to the bacteria which increases methane gas yield. The BioSPR has a small footprint and easy to install device that can increase gas production by 20% or more while simultaneously reducing viscosity.
WBM Award website
http://www.biobusinessawards.com
About Hydro Dynamics
Hydro Dynamics is the developer of a patented process intensification technology enabling customers to solve critical mixing and heating problems. Reactors are operating on four continents in applications ranging from increasing biodiesel production yields to increasing hops extraction for beer. The ShockWave Power Reactor allows customers to significantly decrease operational and capital costs while increasing profits and reducing the environmental impact of many processes. To learn more about our other biofuel efforts see our biofuel webpage.