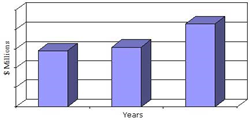 The global market for MIS devices and equipment is expected to reach $21.5 billion in 2019
Wellesley, Mass. (PRWEB) February 25, 2015
BCC Research (http://www.bccresearch.com) reveals in its new report on minimally invasive surgery (MIS) devices and equipment, the growing number of surgical procedures has created a lucrative market for specialized devices and instruments (monitors and imaging equipment, electrosurgical devices, handheld instruments, auxiliary devices, and accessories, etc.) used for these practices.
The global market for MIS devices and instruments was worth an estimated $14.5 billion in 2013 and $15.4 billion in 2014. This is forecasted to reach $21.5 billion by 2019, with a compound annual growth rate (CAGR) of 6.8% between 2014 and 2019.
The U.S. accounted for about 67% of the world market, or $9.6 billion in 2013 and exceeded $10.2 billion in 2014 at a CAGR of 6.4%. By 2019, this is anticipated to approach $14 billion. Surgical devices (stents, catheters and guide wires) are the largest product segment of the U.S. minimally invasive surgery market. Surgical robots are the fastest-growing equipment/device segment with a CAGR of 14.2% between 2014 and 2019.
With the population served by established markets aging, there has been an introduction of new surgical needs, along with opening of new markets. Orthopedic surgery is the fastest-growing application segment, with a projected CAGR of 8% between 2014 and 2019, followed by vascular surgery (7.1%) and cardiothoracic surgery (7%).
"The structure of the healthcare industry is changing, as traditional hospitals consolidate and other healthcare options become available to consumers," says BCC Research analyst Andrew McWilliams. "Technological advances have expanded the range of surgical procedures that can be performed using minimally invasive techniques, while giving physicians new tools for the diagnosis and treatment of injuries and pathologies."
The Market for Minimally Invasive Medical Devices analyzes global markets for minimally invasive surgical devices and instruments in light of the current and future markets, technological, demographic and economic developments that may have a long-term impact on the size and structure of the market.
Editors and reporters who wish to speak with the analyst should contact Steven Cumming at steven.cumming@bccresearch.com.
About BCC Research
BCC Research publishes market research reports that make organizations worldwide more profitable with intelligence that drives smart business decisions. These reports cover today's major industrial and technology sectors, including emerging markets. For more than 40 years we've helped customers identify new market opportunities with accurate and reliable data and insight, including market sizing, forecasting, industry overviews, and identification of significant trends and key market participants. We partner with analysts who are experts in specific areas of industry and technology, providing unbiased measurements and assessments of global markets. Recently selected as the world's greatest market research company, BCC Research is a unit of Eli Global, LLC. Visit our website at http://www.bccresearch.com. Contact us: (+1) 781-489-7301 (U.S. Eastern Time), or email information@bccresearch.com.