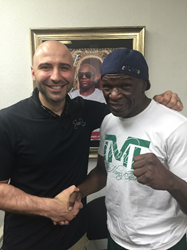 Amer is qualified, electrified and bona fide. That's what I'm looking for.
Lockport, NY (PRWEB) February 25, 2015
Follow Floyd Mayweather Sr on Facebook!
Amer Abdallah wears many hats. He is the founder and chief operating officer of Lace Up Promotions, the undefeated no. 2 ranked kickboxer in the world and WKA Intercontinental Champion, the manager of over a dozen professional fighters, and now the official agent of Floyd Mayweather Sr.
Mayweather Sr., the father of pound-for-pound king and highest paid athlete in the world, Floyd Mayweather Jr., met Abdallah in 2012 through younger brother and Team Abdallah trainer, Jeff Mayweather.
"Jeff always spoke very highly of Amer and I saw that in his actions," said Mayweather Sr. "He takes care of business inside and outside of the ring. Amer is qualified, electrified and bona fide. That's what I'm looking for."
Over the course of the years, the pair have interacted on promotional deals with the latest being the Mayweather Training Camp that Abdallah organized in Syracuse and Buffalo. The event was such a success that Mayweather Sr. and Abdallah began brainstorming future ideas in the industry. In just over a month, after opening a Lace Up Promotions office in Las Vegas, Nevada, Abdallah was able to come to terms with Mayweather Sr. and take over as his agent.
"Floyd Mayweather Sr. is one of the greatest trainers in the world and carries the biggest name in the sport today," said Abdallah. "I'm humbled that he's entrusted me with this colossal task and am confident I will meet and exceed his expectations. Along with his amazing personality, he is a true pioneer in the sport and extremely respected throughout the entire industry."
Abdallah will handle Mayweather Sr.'s promotional and marketing affairs as the world-renowned and highly-demanded trainer is often overwhelmed with offers and opportunities. Calls from across the world are requests for the services of the self-proclaimed "greatest trainer of all time."
Mayweather Sr. is currently the head coach of his son, Floyd Mayweather Jr., who prepares for the biggest bout in boxing history on May 2 as he takes on superstar Manny Pacquiao at the MGM Grand in Las Vegas, Nevada.
The terms of the agreement were not disclosed, but Abdallah stated that they are both excited and looking forward to a long, successful working relationship.
"I'm proud to say that the biggest name in boxing is now managed by a resident of Lockport, NY," Abdallah said.
Stay up to date with news, events and the latest on Floyd Mayweather Sr by following him on his official Facebook page - https://www.facebook.com/pages/Floyd-Mayweather-Sr/418103831687959.