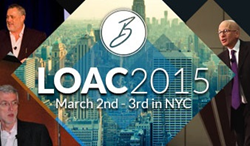 San Jose, CA (PRWEB) February 25, 2015
TapClicks today announced they will be exhibiting at the Local Online Advertising Conference 2015, organized by Borrell Associates.
The largest gathering of local online media executives with more than 500 industry leaders, the 6th Annual Local Online Advertising Conference will be held at The Grand Hyatt New York, March 2nd-3rd. With a slate of nearly 50 speakers, the agenda is focused on "The Future of Local Media" – where we're heading and how you can prepare now.
TapClicks will be demonstrating its powerful TapAnalytics platform, a complete digital agency analytics and reporting platform. TapAnalytics delivers cloud-based, on-demand campaign performance dashboards, reporting and analytics for digital agencies and enterprise marketers. TapAnalytics quickly integrates a rich spectrum of marketing campaign data via integrated, customizable dashboards, with performance metrics, results and visualization.
During the lightning talks ("Buzz Session") on the first day, Jeff Herr of TapClassifieds will present a case study of how TapClassifieds increased profits for Digital First Media, utilizing the TapAnalytics platform. On the second day, TapClicks will also be sponsoring the luncheon. Throughout the conference, the TapClicks team will be demonstrating the product in the expo hall, and, by request, at other locations in the New York City area.
When: March 2 and 3, 2015.
Where: Grand Hyatt New York in NYC, New York.
Join us and learn more:

Contact us at sales(at)tapclicks(dot)com to set up an advance appointment for a demo.
About TapClicks and TapClassifieds
TapClicks, Inc., the digital presence company, was founded in 2009, and operates out of offices in Silicon Valley, Canada, India and Mexico. The TapAnalytics business unit focuses on performance reporting, digital ROI, and analytics for agencies and enterprises. TapClassifieds provides digital classifieds and merchandising solutions for local companies doing business online, delivering a unique ability to generate and track leads and other consumer interactions in unprecedented detail. For more information, please visit http://www.TapClicks.com