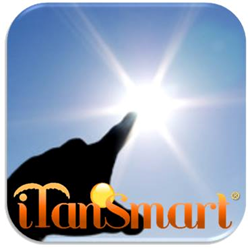 Fort Myers, Florida (PRWEB) February 27, 2015
iTanSmart is a new app made for Android Smartphones that helps take the guesswork out of sun tanning by alerting the user when to get out of the sun before getting burned. iTanSmart also educates the user about UVB rays, sun protection factor (SPF), photo-sensitivity, and Vitamin D production.
iTanSmart uses five factors: UV index, time of day, skin type, sunscreen's SPF, shaded or direct sunlight and recommends how much time can be spent in the sun before getting burned.
iTanSmart alerts the user with audible chimes and screen notifications when it's time to re-lotion, get out of the sun, and when the minimum and maximum recommended amount of Vitamin D for the day has been produced. This all occurs all while listening to iTunes or using other features on the device.
As optional features, iTanSmart provides a list of medical conditions and related drugs that can increase sensitivity to the sun. iTanSmart also offers a special child setting which takes into account the sensitive nature of a child's skin. iTanSmart can also keep track of your total daily sun exposure and Vitamin D production and makes additional recommendations if you are located at higher altitudes.
About UV Technologies, LLC:
UV Technologies, LLC' s mission is to provide innovative products for customers' health and well-being. UV-Aid is a lighting supplement that helps prevent colds, flu, sore throats, sinus, and ear infections through the natural process of photo-oxidation. iTanSmart is a sun tan application developed for Apple iPhones and iPods. UV Technologies is an A+ accredited business member of the Better Business Bureau. Visit http://www.uvaid.com for more information.