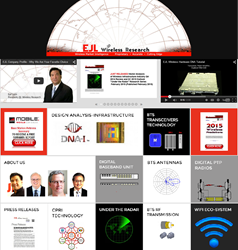 The clickable tiles, each with its own icon representing the specific research product, will allow visitors to quickly navigate within the website
Salem, NH (PRWEB) February 26, 2015
EJL Wireless Research has re-launched its corporate website to provide a more visually focused experience and allow visitors to easily find research products. The new site has been transformed from a traditional category pull down menu based layout that was difficult to use to an easy to use icon based tile layout. "With the launch of an array of new products and research areas in 2015, it was time again to update the corporate website to highlight our new products and services. The clickable tiles, each with its own icon representing the specific research product, will allow visitors to quickly navigate within the website," says founder and President, Earl Lum. The website address remains the same as before at http://www.ejlwireless.com.
"The addition of three new team members to EJL Wireless Research has greatly expanded our capability within the wireless infrastructure market and has added new product areas that were difficult to display properly using the old website layout. We wanted to streamline and highlight the core research areas for visitors and also optimize the site for viewing on tablets and mobile phones. The new site automatically shuffles the icon tiles as the screen size is adjusted," says Lum.
Now, with a complete portfolio of wireless infrastructure research products ranging from macrocell base stations to DNA-I™ RAN equipment and semiconductor reports, EJL Wireless Research continues to lead the market research industry as the source for wireless RAN research, analysis and consulting services.
About EJL Wireless Research
EJL Wireless Research provides proprietary, accurate and cutting-edge market analysis and consulting services on the wireless technology ecosystem. The firm focuses its research on all elements of the wireless network infrastructure ecosystem including BTS antennas, tower mast amplifiers, PTP radios, remote radio units, macrocell and microcell base stations, small cells, in-building wireless solutions including DAS, CPRI Fronthaul technology, carrier WiFi 802.11ac and WiGig 802.11ad, 5G technology, centralized radio access network architecture (C-RAN), Evolved Packet Core (EPC), Network Function Virtualization (NFV), Software-Defined Networking (SDN) and Self-Organizing Networks (SON) . In addition, the firm provides analysis across horizontal technology suppliers including RF semiconductor materials, RF semiconductor/components, subsystems and OEMs. Our goal is to provide our clients with mission critical market analysis and information.
EJL Wireless Research is managed by Earl Lum. Mr. Lum has 20+ years of experience within the wireless industry including 8 years as an Equity Research Analyst on Wall Street covering the global wireless industry. The company is headquartered in Salem, New Hampshire, USA. For more information about EJL Wireless Research, please visit the company's website at http://www.ejlwireless.com.