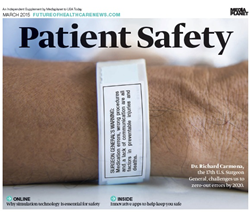 It's incumbent upon all of us to be able to address safety issues to ensure that all our patients are in the safest environment when they're receiving care
(PRWEB) February 27, 2015
Over 440,000 patients die annually as a result of preventable medical harm—this would be the equivalent of two jumbo jet airplanes crashing each day. Now more than ever before, hospitals and patients need to band together in an effort to do all they can to stay safe.
Through an exclusive interview, Dr. Richard Carmona, the 17th U.S. Surgeon General, discusses the importance of safer hospitals. "It's incumbent upon all of us to be able to address safety issues to ensure that all our patients are in the safest environment when they're receiving care," he shares.
The print component of "Patient Safety" is distributed within this weekend's edition of USA Today in Chicago, Los Angeles, Minneapolis, New York, Seattle, Washington DC/ Baltimore, Boston, and Nashville with a circulation of approximately 450,000 copies and an estimated readership of 1.3 million. The digital component is distributed nationally through a vast social media strategy and across a network of top news sites and partner outlets. To explore the digital edition, click here.
This edition of "Patient Safety" was made possible with the support of IntelliCentris. IntelliCentrics specializes in delivering operational security and compliance management services which are determined by an individual's privilege to enter specific areas in a given facility. With a dedication to safety and innovation, IntelliCentrics works with experts in a variety of fields to deliver comprehensive security plans. "Hospitals have a duty to their patients to know who is entering their facilities and why they are there, both to prevent infections as well as to improve safety and security." said Mike Sheehan, CEO of IntelliCentrics. To read more, be sure to pick up a copy of USA Today in one of the distributed markets.