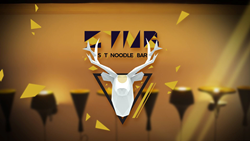 "We wanted to create a trendy hangout, but also a place our guests can rely on for quality food."
Long Beach, CA (PRWEB) March 03, 2015
S.T. Noodle Bar (aka "STNB") is a new Thai noodle house that recently opened up its doors in Long Beach, California. Harkening back to the owner's childhood, the restaurant focuses on authentic Thai noodles and other classic Thai dishes – but with a modern touch.
"It's been a long journey, but we are ready and excited about opening up our doors. Quality food is a must, but we also wanted to create a trendy hangout. I think we've achieved that through our contemporary décor and modern spin on traditional Thai dishes," restaurant representative Eddie Chai said.
A block away from Long Beach City College, STNB will be open for lunch on Monday through Friday from 11am-3pm, for dinner from 5-10pm (Monday-Thursday) and dinner on the weekends from 5-10:30pm. Customers can also have lunch at the restaurant on the weekends starting at 11am.
Crowd favorites are Fried Rad Nah, Thai Boat Noodles, Khao Soi Curry Noodles, and Papaya Pad Thai. For those who enjoy a lighter fare, STNB offers a variety of salads such as Som Tom (Papaya), Thai Beef, and Squid & Lychee. STNB also has "Mini Noodle Cups" for the commuting student or busy employee who's always crunched for time during lunch hour.
Check out the full menu at http://longbeach.stnb.co/.
The establishment is located at 4152 Norse Way in Long Beach.