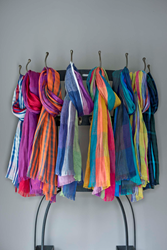 Avoca's Managing Director, Ivan Pratt shared, "After 200 years, it is very exciting for us at Avoca, to finally bring our beautiful world of woven colour to the United States."
Glenwood, Maryland (PRWEB) February 27, 2015
Avoca, one of the world's oldest manufacturing companies, is now making their exquisite collection of products available for sale in the United States at fine retailers. With 600 great people at 11 locations in Ireland and wholesale agents in countries worldwide as far away as Japan and the Middle East, Avoca is a brand the United States customers have been waiting to enjoy. From scarves and coats to throws and totes, everything Avoca creates is touched with their signature style that honors color and brings a modern heritage to life.
With St. Patrick's Day around the corner, tell the story of the Irish in a contemporary way that moves beyond leprechauns and shamrocks. Share the Avoca story and see how a family-owned business creates naturally made artisan treasures that weave the rainbow's many colors to evoke happiness and bring originality to each item.
Avoca US Director, Gina Dubbe' says, "It is a pleasure to be able to offer America the chance to be a part of Avoca's unique experience. Every piece provides the opportunity to share joy and have fun with home goods and fashion."
Collections available include handmade woven goods for fashion, home, bridal and baby. Retail businesses have an unprecedented opportunity to be a part of Avoca's inaugural domestic offering. Interested retailers are encouraged to contact the Avoca United States sales office via email, USSales(at)avoca(dot)ie or phone, 1.844.44-AVOCA (28622) to learn more about available collections and pricing.