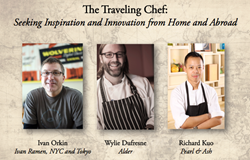 New York, NY (PRWEB) February 28, 2015
On Monday, March 2nd from 6-9pm, Culintro (http://www.culintro.com) will host a panel discussion entitled "The Traveling Chef: Seeking Inspirations and Innovations from Home and Abroad" at the NYIT Auditorium on Broadway (1871 Broadway, New York, NY).
Chefs' passion for their food and inquisitiveness for new tastes and products leads them to seek inspiration through exploration. Trying new and exciting foods and flavors in another, sometimes exotic, place serves as the catalyst for a new dish on an ever-evolving menu.
Join renowned chefs Wylie Dufresne (wd~50, Alder), Ivan Orkin (Ivan Ramen, New York and Tokyo), and Richard Kuo (Pearl & Ash) for a discussion on how their travels have influenced their eclectic styles. They will undoubtedly whet your appetite for global cuisine. The conversation will be moderated by Anne McBride (Director of the Experimental Cuisine Collective at New York University, and Culinary Program and Editorial Director for the Strategic Initiatives Group at the Culinary Institute of America).
6:00PM: Cocktails & Networking | 7:00PM: Panel Discussion | 8:00PM: Cocktail and Light Bites
Tickets to the event can be purchased at http://www.culintro.com for $30/members and $45/non-members.