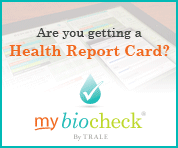 The report card simplifies traditional health assessments by not using any self-reported numbers
Daleville, IN (PRWEB) February 27, 2015
TRALE, a leader in health and wellness solutions and technologies that provides biometric screening companies with multiple health risk assessment (HRA) options, announces a revolutionary report card grading system that simplifies the risk calculation of an assessment by using letter grades or emoticons to score participants' overall health.
The report card is integrated into our signature health risk assessment software, MyBioCheck, which collects, analyzes and organizes biometric data into our easy-to-use grading system. Screeners can then provide real-time feedback in the form of this easily understood report that can be used by participants to track their levels of risk over time. The report card explains in simple language why certain biometric values are critical and how they contribute to chronic disease. Participants are then provided with simple, but effective steps they can take to improve their grades and their health.
The software also provides an aggregate report that identifies the health strengths and weaknesses of the entire company or group. MyBioCheck has the added benefit of being able to be used with an iPad and can be combined with any of TRALE's innovative HRA (health risk assessment) products that are available for resell. These products can be rebranded by resellers and offered as part of their suite of services.
"The report card simplifies traditional health assessments by not using any self-reported numbers," says Dan O'Flaherty, vice president of Sales. "Instead, everything is based on real biometrics that are gathered during a screening event and summarized into a report card type format that can be used by the participant and screener. Our clients love the numerous customization options available with MyBioCheck and its user friendliness. But most importantly, our products can help companies greatly improve the health of their employees and reduce medical costs and claims at the same time. MyBioCheck has become an important cost-saving tool among insurance companies as well as self-insured companies."
A biometric screening is a crucial starting point for any comprehensive health and wellness program and employee benefits plan. For employers, biometric screenings provide important baseline data to shape the direction of their overall corporate wellness and disease management program.
Organizations that specialize in providing health care benefits and services can choose from a portfolio of HRA tools offered by TRALE that can be used a la carte or function in combination with each other. In addition to MyBioCheck, other tools include:
TRALE BackpackTM paper HRA, a stand-alone paper-based tool designed to be used in settings such as health fairs, shopping centers and pharmacies.
TRALE ExplorerTM Online HRA, an application that allows 24-hour access to health risk assessment surveys and helpful web resources.
MyBioCheck + LifeStyle, combines an individual's biometrics into a LifeStyle HRA in real-time.
About the Company:
TRALE was founded in 2001 with the goal of offering flexible, customized health risk assessment (HRA) solutions to its customers. Instead of the "one-size-fits-all" HRA products that are common in the industry, we provide both online and pencil-and-paper HRA tools customized to the individual client's needs. To learn more visit our website at http://www.trale.com