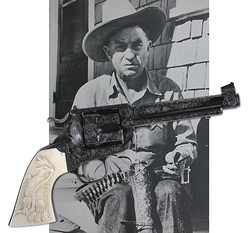 Keith's Corbett Tiger Rifle and Number 5 are truly in a class by themselves and offer enthusiasts the unique opportunity to own a piece of iconic firearms history.
Fairfield, Maine (PRWEB) March 02, 2015
James D. Julia, Inc., one of the nation's top ten antique auction houses, is proud to present these extraordinary firearms and accessories in association with the company's semiannual Firearms Auction to be held on March 15th and 16th, 2015. These provenanced lots are certain to be of great interest to militaria enthusiasts, collectors, and historians, and again affirm Julia's status as the foremost firearms auction company in the world.
This event features over 70 lots from the Keith Collection, and there is something for everyone in this once in a lifetime grouping. However, two Keith firearms in this sale deserve special attention for their absolute rarity, legacy, and history. The first is a cased boxlock ejector double rifle, lot #1038, which is estimated at $75,000-150,000. Known as the legendary "Corbett Tiger Rifle," this masterpiece was made in London by W.J. Jeffery in 1909 and was the principal weapon of famed tiger hunter Jim Corbett. Perhaps the most iconic double rifle ever offered for sale, this gun features 24" steel chopper lump barrels, proved Cordite barrels, a fine grained walnut full pistol grip buttstock, and a sunken concave engine turned mid-rib. The rear sight features one standing and four folding leaves with platinum center lines. In addition to its remarkable assembly, this rifle is also handsomely detailed, and features Jeffery identification and scroll engraving throughout. The rifle comes with its original beveled edge brass-cornered oak and leather case and original outer case cover.
This fabulous firearm undoubtedly was one of Elmer Keith's favorites. He mentioned it with great affection in numerous publications; in one he states, "I own the late Jim Corbett's tiger rifle – the best quality, box lock .50-400, 3″ double rifle by W. J. Jeffery & Co – with which he killed so many man-eating tigers for the Indian government. ... I would like to have known Jim Corbett... I treasure his old rifle. You can judge a man by the condition of his rifle." Most recently this firearm was featured in the Spring, 2013 edition of Double Gun Journal.
The second phenomenal offering in the Keith collection is lot #1005, a tricked out Colt Single Action Army Revolver, estimated at $30,000 to $50,000. Designed by Elmer Keith and Harold Croft, Keith named this .44 caliber special "Old Number 5" and declared it "The Last Word" in fine sixguns. The all blue finished gun has a 5-1/2″ barrel with 1-line address and dual caliber markings on the left side. The bore is 6 lands and grooves with a left hand twist, and the muzzle is fitted with a sleeve that is mounted with a Colt double action adjustable front sight. This remarkable firearm features many special details, including a redesigned top strap, a custom base pin, an oversized hammer and trigger, an optimized backstrap, and a unique hammer spring. The revolver is decorated with ivory grips, as well as elaborate engravings over most of its metal surfaces. "Old Number 5" comes with its original tooled leather holster, which was designed by Keith.
This remarkable firearm is the result of a collaboration between S. Harold Croft and Elmer Keith. Croft, having heard of Keith's legendary shooting skills, traveled to Durkee, Oregon with "a box full of guns" for a demonstration of Keith's long-range accuracy. He was so impressed with Keith that he began working with him to re-design the single action army revolver. "Old Number 5" was the 5th iteration of Croft's modified Colt revolvers. The first four were Croft's designs and called "Featherweights." After experimenting with these, Elmer made design changes to create "the perfect revolver" - "Old Number 5" under discussion here. In an April, 1929 American Rifleman article, "The Last Word," Keith detailed the specifics surrounding the concept and manufacture of this exact revolver. This storied firearm is pictured several times in Keith's book Six Guns; it has also been the subject of numerous articles over the last 80 years and was the cover feature of the May, 2003 edition of Guns & Ammo magazine.
According to Wes Dillon, James D. Julia's Department Head, Rare Firearms and Military Division, "It is a great honor to be working with the Keith Collection. Keith's Corbett Tiger Rifle and Number 5 are truly in a class by themselves and offer enthusiasts the unique opportunity to own a piece of iconic firearms history. We are thrilled to be able to offer this incredible selection of firearms, many which have been on display at the Elmer Keith Museum in Boise, ID, to collectors worldwide through our upcoming March Firearms Auction."
About James D. Julia, Inc.:
James D. Julia, Inc., one of the top ten auction antique houses in the nation, is headquartered in Fairfield, Maine. The company also has an office in Woburn, Massachusetts. In business for over 40 years, the company conducts high-end antique, collectible, and decorative arts auctions throughout the year. Julia's routinely establishes new world records through its sales events. Julia's has four key divisions, including rare firearms and militaria; fine and Asian art and antiques; lamps and glass; and important toy, dolls, and antique advertising. Each division has been ranked nationally for excellence and is staffed with world-class specialists to insure fair and professional authentication, identification, and valuation services.
For more information on James D. Julia, Inc. and the company's Outstanding March Firearms Auction, please visit http://www.jamesdjulia.com.