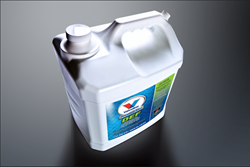 Keller, TX (PRWEB) February 28, 2015
Valvoline and Victory Blue today announced a partnership under which Victory Blue will serve as the exclusive manufacturer, packager and distributor for Valvoline's Premium Blue brand of diesel exhaust fluid (DEF).
"With our national distribution network and well-established manufacturing and packaging capabilities, we will provide Valvoline's Premium Blue brand with unprecedented reach and access to both wholesale and retail channels," said Jason Lower, Victory Blue executive vice president. "Our team has worked tirelessly to earn the trust of industry leaders such as Valvoline, and we believe this partnership will provide customers with a premium, recognizable brand at competitive prices."
With impending fuel economy requirements, overall DEF consumption in North America is projected to eclipse 2 Billion gallons by 2025.
"We see significant growth opportunities as wholesalers and retailers increasingly look for a trusted, recognizable brand at a competitive price," said Todd Graybeal, Valvoline vice president of global products. "Victory Blue's proven expertise in the diesel exhaust fluid segment will help us tap into that growth and enhance Valvoline's position in the market."
Victory Blue offers DEF in quantities of bulk, mini bulk, and packaged products.
About ValvolineTM
Valvoline is a leading, worldwide producer and distributor of premium-branded automotive, commercial and industrial lubricants, automotive chemicals and car-care products. It ranks as the #2 quick-lube chain and #3 passenger car motor oil brand in the United States. The brand operates and franchises approximately 900 Valvoline Instant Oil ChangeSM centers in the United States. It also markets Valvoline lubricants and automotive chemicals; MaxLife™ lubricants created for higher-mileage engines; NextGen™ motor oil, created with 50-percent recycled, re-refined oil; SynPower™ synthetic motor oil; Eagle One™ and Car Brite™ automotive appearance products; and Zerex™ antifreeze. For more information, please visit http://www.valvoline.com.
About Victory Blue
Victory Blue is a nationwide diesel exhaust fluid (DEF) distributor. Victory Blue specializes in producing high-quality DEF from multiple locations across the United States. With over 30 locations to source from, Victory Blue is dedicated to providing a quality product and excellent service to their customers. For more information, please visit http://www.govictoryblue.com/.
Media Contacts
For more information, please contact:
Victory Blue, LLC
1670 Keller Parkway Ste. 247
Keller, TX 76248
Office: (817) 337-3311
Fax: (888) 259-7290