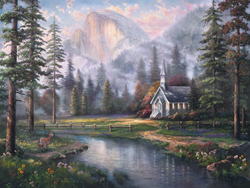 "Valley Chapel is inspired by the beautiful Yosemite Valley and a small historic church that sits near the base of Half Dome. This chapel has been a spiritual resource there since the late 1800's." - Patrick Kinkade, Chief Creative Officer
Morgan Hill, CA (PRWEB) March 03, 2015
The Thomas Kinkade Company has announced the release of a new painting from the Thomas Kinkade Vault entitled, Valley Chapel. Yosemite Valley was the subject of many of Thomas Kinkade's paintings. Growing up in Placerville, CA, he developed a deep appreciation for the great outdoors at an early age. Throughout his life he continued to take inspiration for his artwork from the mountains and his belief that the natural world was God's greatest cathedral.
Patrick Kinkade, Chief Creative Officer and Thomas Kinkade's brother, says, "Thom's landscapes are spiritual statements in the form of art, and work as his personal testimony to the reality of God. Valley Chapel is no exception. Valley Chapel is inspired by the beautiful Yosemite Valley and a small historic church that sits near the base of Half Dome. This chapel has been a spiritual resource there since the late 1800's."
Thomas Kinkade painted numerous paintings in Yosemite during his lifetime, some of which are among his most popular images. In 1989, his painting, Yosemite Valley, Late Afternoon at Artists Point, was selected by the National Park System as their official print. It is now sold out in Limited Edition. He was also the only American artist to win two Founder's Awards from the National Park's Academy of the Arts.
The Thomas Kinkade Company has published the works of Thomas Kinkade and Thomas Kinkade Studios for over 25 years, during which Thom has become one of the most widely recognized and best-selling artists in the world. His artwork is distributed through a network of authorized dealers and strategic relationships. The Thomas Kinkade Company and Thomas Kinkade Studios strive to carry on Thom's legacy, passion and his desire to bring joy into people's lives. For additional information on The Thomas Kinkade Company visit http://www.thomaskinkade.com.