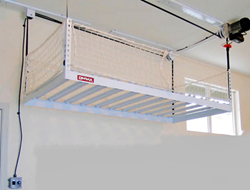 What is innovative about the ONRAX Ascension series, however, is its automation combined with its capacity.
Gaithersburg, MD (PRWEB) March 04, 2015
Potomac Garage Solutions, the Gaithersburg, MD based garage organization company, has added a new solution for overhead storage in the garage. The new system is the ONRAX Ascension series, a heavy duty electric powered overhead storage system.
The concept of overhead storage is not new — it has found its way into garage renovations for decades. Overhead storage has long been a way to get odds and ends off of the floor, allowing a homeowner to use otherwise dead space above the main garage to store things like holiday decorations, pool toys, camping gear, and other seasonal items. What is innovative about the ONRAX Ascension series, however, is its automation combined with its capacity. With the push of a button, the ONRAX system lowers itself to the ground, making everything that is stored within it easily accessible to the homeowner. Whereas in old overhead storage solutions the homeowner may have to climb up a ladder to retrieve items and could only take what he or she could physically carry, the ONRAX system does all of the heavy lifting for the homeowner. This opens up a whole new range of possibilities for the types of times that can be stored overhead. The lawn mower in the winter, the snowblower in the summer, bicycles, grills — because the burden is off of the homeowner to lift and retrieve these items, heavier items can be stored and thus the overall use of the garage can become much more practical.
Luckily, the ONRAX Ascension series focuses on these heavier, bulkier items and accommodating them. The units within the system have a 400 lb capacity, which means that most larger household items can be withstood by the system. Additionally, the system is equipped with super duty seatbelt webbing and a four point lift system to ensure platform stability.
Potomac Garage Solutions is based in Gaithersburg, MD and has showroom locations in Maryland, New York, and Florida. The garage remodeling company services Maryland, Virginia, Washington DC, the greater New York City area, Miami, and Fort Lauderdale. Potomac Garage Solutions is currently the exclusive dealer of the ONRAX Ascension series in the New York and Maryland markets and is one of few dealers in Florida.