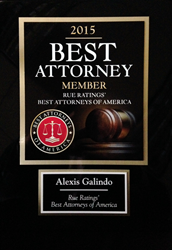 Los Angeles, California (PRWEB) March 03, 2015
The Law Offices of Curd, Galindo & Smith, LLP is proud to announce the selection of Attorney Alexis Galindo as a Member of Rue Ratings' Best Attorneys of America.
This honor is awarded to less than one percent of all attorneys in the United States and was published in the January 2015 issue of the American Bar Association Journal.
Attorney Galindo is not only recognized for his extraordinary skill in the field of personal injury and civil rights law with this honor, but is now able to access the practices and procedures used by the top attorneys nationwide.
What is Rue Ratings' Best Attorneys of America?
Rue Ratings' Best Attorneys of America is a group of the top attorneys in America.
To be selected for membership into this group, a lawyer must be endorsed by an existing Lifetime Charter member, nominated by a member of the Bar or the public, or chosen from an independent research team.
Once nominated, an attorney peer review will examine the lawyer's accomplishments and qualifications for membership. Only those meeting these rigorous standards are invited to join, with membership capped at 100 members for most states.
In order to be chosen as a Member, a lawyer must demonstrate a skilled level of:

Legal expertise
Competency
Professional reputation
Professionalism
Ethical standards
Once an attorney has been shown to hold themselves and their practice to these standards, they will receive a personal invitation to join. With so few attorneys receiving this accolade, those boasting a Rue Ratings' Best Attorneys of America Member award are truly seen as the best of the best.
Mr. Galindo is a founding member of Curd, Galindo & Smith, LLP which is a full service law firm that represents both corporate and professional clients and those who have been seriously injured or have lost a family member due to an accident, defective product, police misconduct or negligence.
The law firm has recovered millions of dollars for its thousands of clients since 1995 by winning complex and challenging business disputes, death and injury cases involving police misconduct, traffic collisions, work place injuries and defective products, including defective automobiles, against some of the world's largest companies and governmental agencies.
Mr. Galindo received his business degree from University of Southern California in 1982 and his law degree in 1985 from the University of Oklahoma.
Mr. Galindo has been a lawyer and real estate broker for over 25 years. He has won numerous jury verdicts and settlements in the area of personal injury, products liability and civil rights/police misconduct cases.
Mr. Galindo is a member of ABOTA which is an organization of attorneys representing both plaintiffs and defendants in civil cases. All of the attorneys who belong to ABOTA have earned great distinction at trial. Mr. Galindo is a member of Million Dollar Advocates Forum, Consumer Attorneys of California, Consumer Attorneys of Los Angeles, NPAP (National Police Accountability Project), National Lawyers Guild, National Association of Realtors and California Association of Realtors.